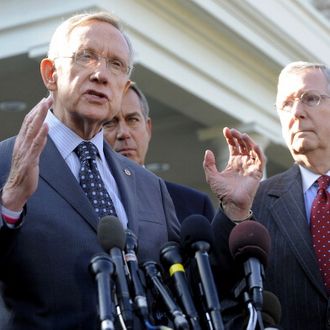 Last-minute negotiations to resolve the fiscal cliff continued on Saturday with no apparent signs of a breakthrough. Asked whether he thought he'd be able to strike a deal with Senate Majority Leader Harry Reid, Republican ringleader Mitch McConnell said only, "I hope so," as he approached the "deserted" Capitol this morning. (Reid wasn't even in the building.) At this point, lawmakers, their aides, and the White House are trying to hash out a slimmed-down measure able to pass Congress by Monday, and both sides have reportedly agreed in principle to extend unemployment insurance for two million people as well as Bush-era tax cuts for most Americans. Medicare doctor payments and estate taxes are still sticking point, as is the question of who, exactly, will not be keeping their tax cuts.
In his weekly radio address today, President Obama reiterated his hope that a deal can be reached by New Year's, but added that he does have something of a Plan B. (Not that those have worked particularly well of late.) If necessary, he's instructed Reid to hold an up-down vote Monday on a stop-gap bill that would prevent a tax hike on families making $250,000 or less. Politico reports that Reid is "confident he can win such a vote by holding his own members and peeling off some Republicans. If Republicans decide not to filibuster the plan, Democrats would almost certainly push the bill through the Senate with their narrow majority, pressuring House Republicans to let the bill come to a vote on the eve of the fiscal deadline." A Republican filibuster would be pretty bad for the party, as it would allow everyone to blame them for letting the country hurtle over the cliff.
McConnell's camp has also reportedly pushed hard to walk the White House back to the $400,000 threshold Obama briefly dangled in front of House Speaker John Boehner before the holiday break. However, even if a bipartisan agreement is reached in the Senate, the House's ability to pass something similar is in doubt. In a Thursday conference call with GOP congressmen on Thursday, Boehner said he didn't want to introduce any bill that couldn't win a big majority of House Republicans. But he didn't say he wouldn't introduce such a bill, which means a faint glimmer of fiscal hope still remains.