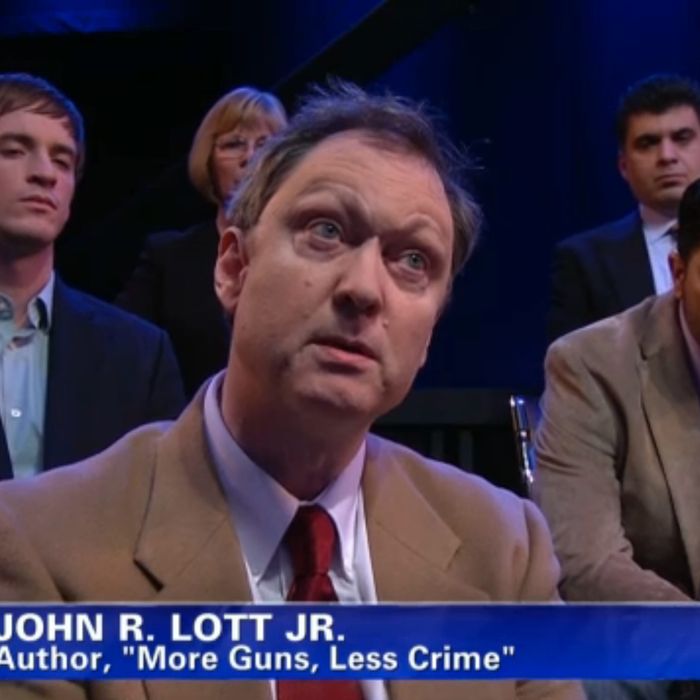 FoxNews.com contributor John Lott, the author of More Guns, Less Crime, was racing between television appearances on the afternoon of December 19. "Today has been nuts," the gun-rights activist told me by phone. "The last five days have been nuts. I have been on CNN four times, and I'm going to be on them tonight, on Piers Morgan. He gets to yell at me again."
Since the Newtown massacre, Lott, one of the country's most vocal Second Amendment absolutists, has been donating his time to CNN while Fox News, the network that pays him and employs his son as a producer, has held him at bay. Lott told me that he submitted a column for Fox's website on Monday about assault weapons but was informed yesterday afternoon by a Fox News staffer that the article would not run. "They didn't send me an e-mail. I got a call," he explained. "They said, 'This is just too sensitive.'"
In the unpublished column, Lott described the differences between the Bushmaster rifle used by Adam Lanza and weapons actually used by the military. "No self-respecting military in the world would use the civilian version of these guns," he wrote. Lott argued that lawmakers were using the Newtown tragedy to scare citizens. "Some politicians want to truly frighten the public by painting a false image of machine guns on America's streets to push regulations on semi-automatic guns," he wrote. "Despite the rhetoric used by many such as President Obama, not a single multiple victim public shooting has involved a machine gun." Lott concluded his column writing that new gun laws will make Americans less safe. "The Bushmaster, like any gun, is indeed very dangerous, but it is not a military weapon," he wrote. "If you want to ban semi-automatic guns, ban all of them, not just guns based on how they look. Yet, despite the immediate emotional appeal, banning semi-automatic guns will jeopardize safety." A Fox News spokesperson told me in an e-mail that Lott's column was rejected because it was "too technical for that period of time." He added that "Lott accepted the reason and moved on. As an aside, we have published ten of his columns since September."
Fox's decision to kill his column surprised Lott. "It's very unusual for them not to run one of my pieces. It's probably one out of a hundred they won't run," he said. "I don't even know the last time they didn't." (In 2012, Lott has published 37 columns for the Fox News website, according to his FoxNews.com archive. Lott's last column, titled "Bob Costas can't shoot straight when it comes to guns," was published on December 6. In it, he criticized anti-gun remarks by the sportscaster.)
Lott also told me that he's wanted to go on Fox News this week to debate guns on-air but has not heard from any producers about booking. "I'm a FoxNews.com contributor. They know I'm happy to do it," he told me. After being in the firing line at CNN this week, he would like to get airtime at Fox, which he says is a friendlier outlet for his point of view. "I prefer to do Fox. The conversation is more civilized," he said. "It's just not that Piers is as dogmatic as he is. His audience tends to agree with him most of the time. I don't think I've gotten so much hate e-mail as after I appeared on his show." Lott told me that after he appeared on Morgan last night, he was escorted out by CNN security.
Lott's absence from Fox programming was reported by Washington Post writer Erik Wemple.
When I asked Lott why he had not been booked on Fox News to discuss Newtown, he said, "You know, call them up and ask them." Lott stressed that he was neither upset by, nor critical of, his lack of visibility on Ailes's network. "They pay me money. They use me when they want to."
"As for bookings," the Fox spokesperson said, "the feeling amongst bookers is that he's not 'a must-have get.'"
To be sure, Lott is a not a regular presence on Fox News shows. He did not make any live TV appearances in 2012. But Fox's decision to spike Lott's online column is another high-profile example of the cautious approach that Roger Ailes's network is taking on the subject of gun control. On December 17, I reported that network management instructed Fox News producers to refrain, with few exceptions, from booking substantive policy debates on Fox News programs over the weekend. On Saturday morning, Fox & Friends host Steve Doocy said, "A lot of people are already starting to talk about guns. Today is not the day to talk about gun control. Wait till Monday." On Saturday night, David Clark, the executive producer of weekend programming, e-mailed three political panelists telling them not to engage in a gun debate on-air on Sunday.
Fox's gun-control debate over the weekend was largely contained to reruns of Fox News Sunday, the Fox broadcast show, and a Sunday night panel hosted by Bret Baier. The muted discussion of gun rights following Newtown on Ailes's network is not the first time the Fox chief has expressed the need for a sensitive programming approach following a mass tragedy. In May 2011, I reported that Ailes advised Sarah Palin to lay low after the Tuscon shooting spree and expressed frustration after she ignored his advice and attacked critics who pointed their fingers at her incendiary rhetoric.
Lott told me he has been frustrated by the degree to which his side has been stifled in the gun-rights debate. When I asked Lott about Rupert Murdoch's recent post-Newtown tweet about banning "automatic weapons," he took up the charge. "I kind of winced when I saw what Murdoch said. It indicates that he doesn't know what he's talking about."