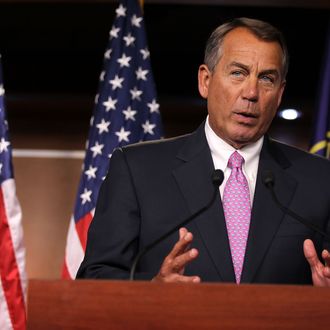 Photo: Alex Wong/2012 Getty Images
Last week the Republicans claimed they were highly offended by President Obama's fiscal cliff proposal, which John Boehner has been referring to as the president's "la-la-land offer," so on Monday they made a counteroffer that's closer to the middle ground, or at least meant to appear that way. "We could have responded in kind, but we decided not to do that," Boehner told reporters. The GOP proposal involves raising $800 billion in higher tax revenue over ten years, which "would not be achieved through higher tax rates." While Obama has said that he won't accept a plan that doesn't increase income tax rates for the top two income brackets, the GOP plan would keep the Bush tax cuts even for the wealthiest Americans. Republicans say the new revenues would still target households earning more than $250,000 a year, but they would come from closing loopholes and deductions — and the proposal doesn't specify which loopholes and deductions would be axed.
Unsurprisingly, the Obama administration rejected the Republicans' offer immediately. "It actually promises to lower rates for the wealthy and sticks the middle class with the bill," said White House communications director Dan Pfeiffer. "Until the Republicans in Congress are willing to get serious about asking the wealthiest to pay slightly higher tax rates, we won't be able to achieve a significant, balanced approach to reduce our deficit."
Pfeiffer also said the offer "does not meet the test of balance," though the Republicans tried to counter that accusation by basing their plan on a framework that Democrat Erskine Bowles came up with last year while leading the president's bipartisan debt-reduction committee, rather than Paul Ryan's budget. The Republicans' counteroffer calls for cutting $600 billion from Medicare and other federal health programs and raising the Medicare retirement age from 65 to 67. They say we could save another $200 billion over ten years by changing the way cost-of-living adjustments are calculated, which would slow down benefit increases in Social Security and other federal programs. The plan doesn't outline how to deal with the debt ceiling or sequestration cuts.
According to The Wall Street Journal, Bowles tried to distance himself from the Republicans' offer on Monday, saying he'd merely suggested "the midpoint of the public offers put forward during the negotiations to demonstrate where I thought a deal could be reached at that time." He also noted that "Circumstances have changed since then" — like an election that strengthened Obama's hand. "Every offer put forward brings us closer to a deal, but to reach an agreement, it will be necessary for both sides to move beyond their opening positions," he added.
Now that both sides have declared that their opponents need to get serious, they may be ready to talk. Officials suggested the president might meet with congressional leaders by the end of the week. In response to the White House rejecting the GOP's ostensibly generous plan, Boehner's spokesman signaled that the ball is now in Obama's court, saying, "If the President is rejecting this middle ground offer, it is now his obligation to present a plan that can pass both chambers of Congress."