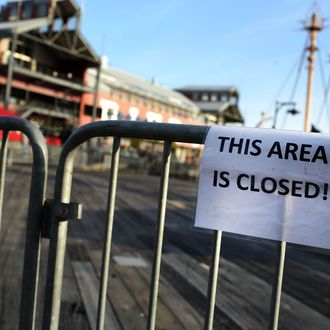 Photo: Spencer Platt/Getty Images
Republicans have been questioning whether every item in the White House's $60.4 billion Hurricane Sandy disaster aid package is really necessary, and on Wednesday they unveiled their own proposal that goes far beyond trimming a few million dollars tagged for fisheries in faraway states. Senate Republicans have introduced a plan that would provide only $23.8 billion, less than 30 percent of the initial $82 billion request made by New York, New Jersey, and Connecticut. Republicans say the package is only meant to cover immediate needs through March, and they'll consider providing more funding for projects the consider less pressing — such as preventing subway flooding and protecting shorelines during future storms — in the coming months. "We don't have time right now to get all the way through and analyze the actual losses that were attributable to Sandy," said Republican senator James Inhofe, adding that the White House proposal looks like a "slush fund."
Sen. Dan Coats, who introduced the alternative package, says he isn't suggesting that everything else in the White House's package is unnecessary. "I'm simply saying give us some time, at least these three months to allow our committees to look through this," said Coats, adding that the "concept behind this of course is to be as careful as we can with the taxpayers' dollars." Democrats and some Republicans from areas affected by Sandy worry that there will be less pressure to approve the funding as the months wear on, and say large rebuilding projects can't be started if there's no guarantee for long-term funding.
Governor Cuomo was criticized for declaring last month that Sandy was "more impactful" than Hurricane Katrina (financially, that is), and while he could have been more eloquent, the current battle underscores his point. "When we had the devastation in New Orleans, we got the aid to those states very quickly," said Harry Reid on the Senate floor on Wednesday, noting that Congress approved $62.3 billion in aid for areas affected by Hurricane Katrina less than two weeks after the storm hit. 
While it was hoped that the funding would be approved by the end of the year, it seems the fight will drag on even longer. Sen. Chuck Schumer said lawmakers from New York and New Jersey "welcome a vote" though the measure "has no chance of passing the Senate." He added, "We will keep fighting until New York gets its fair share." Meanwhile, when asked if House Republicans would also offer less aid, House Appropriations Committee Chairman Hal Rogers said, "We'll wait to see what the Senate comes up with." Politico reports that fellow House Republican Frank Lucas "already has his eyes on the Sandy aid as a way to move a farm bill extension and avert a spike in milk prices," so don't bet on a less contentious journey through the House.