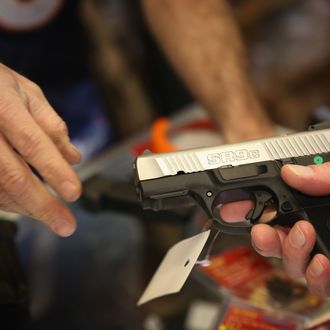 Photo: Scott Olson/2012 Getty Images
When people talk about strengthening background checks for gun buyers, they often mention closing the gun show loophole, but according to a disturbing new analysis of federal data, even when background checks are conducted, guns still frequently wind up in the hands of people who shouldn't be anywhere near firearms. A report from Mayors Against Illegal Guns suggests that there might be millions of people who've been declared mentally ill but aren't in the FBI's database, due to huge gaps in reporting. The Supreme Court ruled in 1997 that the federal government couldn't make participation in its background check system mandatory, and today nineteen states have submitted fewer than 100 records on the mentally ill, according to the New York Times. Plus, many states aren't reporting the names of people who have domestic violence records or test positive for illegal drugs. "Until it has all the records of people out there in the country who have been deemed too dangerous to own a firearm, the background check system still looks like Swiss cheese," said Mark Glaze, the director of Mayors Against Illegal Guns.
A report over the summer from the Government Accountability Office found that states often fail to provide records to the National Instant Criminal Background Check System due to privacy laws, technological issues, and the cost of reporting. When the FBI can't complete the background check during the three-day waiting period — whether because the data is missing or local officials are still searching through non-digitized files — the sale can go through. FBI data shows that since 2005, 22,162 firearms were sold to people who should have been prohibited from buying guns during a background check.
Flaws in the database came under more scrutiny after it was discovered that Seung-Hui Cho managed to purchase the guns used in the 2007 Virginia Tech shooting legally, though he'd been declared mentally ill. In response, Congress passed a law offering states grants, and threatening to cut federal funding if they didn't provide more records. The program improved reporting in a handful of states, but it's been hindered in many areas of the country by a concession to the NRA that requires participating states to set up a system that allows people to petition to have their gun rights restored. 
Following the Aurora shooing, President Obama said he thinks "the majority of gun owners would agree" that "a mentally unbalanced individual should not be able to get his hands on a gun so easily." Since a recent poll found that even 74 percent of NRA members support criminal background checks before purchasing a gun, it does seems like improving the database would be fairly simple, particularly when compared to thornier gun control issues like the assault weapons ban. However, gun rights advocates have strongly opposed the Fix Gun Checks Act of 2011, which would improve reporting and close the gun show loophole. While Republican Senator Susan Collins told the National Journal this week that she thinks the two parties could find common ground on the issue, she said, "That may not be as easy as you think." Collins explained that the issue raises concerns about privacy rights and how to "compel states to share the information." Somehow even enforcing existing laws to keep guns away from people we all agree shouldn't have them is going to be complicated.