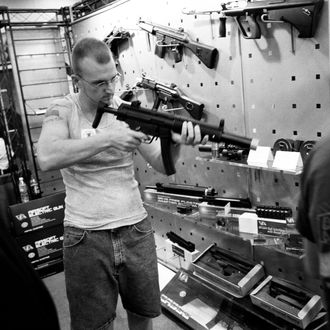 "Happiness is a warm Gun". Scenes at the National Rifle Association's (NRA) Annual Meeting April 16, 2005 in Houston, Texas. U.S. House Majority Leader Tom DeLay (R-TX) was the keynote speaker at the 134th NRA Members Banquet. 'Happiness is a warm gun' was the consensus at the annual NRA convention in Houston, where thousands of pistol packers swapped notes on concealed weapons, took aim at their enemies in France and at the U.N., and basked in the glow of political victory. With the number of privately owned firearms in the U.S well over 200 million, including upwards of 65-70 million handguns the debate of the right to bear arms only intensifies. The number of handguns rises by approximately 4.5 million annually.
Photo: Charles Ommanney/Getty
While the NRA made the news rounds this weekend, Brownells, the company that calls itself the world's largest arms supplier, reported it sold three and a half years' worth of AR-15 ammunition magazines in just three days — conveniently, the last few shopping days before Christmas. To be clear, the AR-15 is our fair nation's most popular semi-automatic rifle and was probably on the list of many a gun supporter this year. Unfortunately, it is also similar to the one used in the Newtown shootings. Because guns still aren't the problem, we can all feel extra safe this holiday.