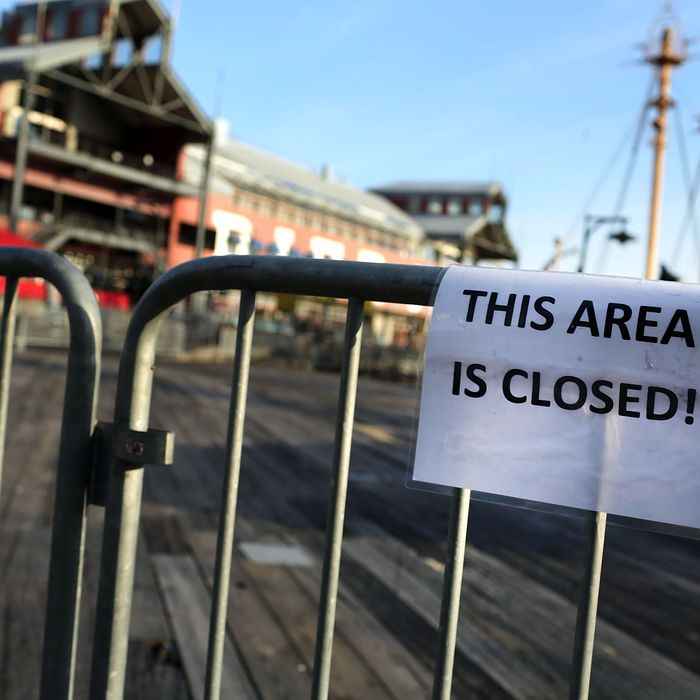 Photo: Spencer Platt/Getty Images
While the Senate is ready to get working today on approving the White House's request for $60 billion to rebuild after Hurricane Sandy, Republicans in the House of Representatives are playing politics and think that seems like a bit much. Conservative members of the lower chamber are already calling for spending cuts to offset the costs, while one GOP aid told The Wall Street Journal that the total they're willing to approve would be "far smaller" than what the administration wants. In requesting more specifics, the right wing of the House is willing to let the recovery bill for New York and New Jersey wait until next year.
"We have these emergencies every year and we should prepare for that in our budget," said Representative Raul Labrador (Republican, Idaho). "No pun intended, we should have a rainy day fund," added Representative Jeff Landry (Republican, Louisiana).
"We saw a lot of money that was spent down in Louisiana that should not have been, we saw a lot of blank checks that should not have been written," said Representative Steve King (Republican, Iowa), according to the Hill. "I am going to look for offsets as well, but I can see some circumstances where they won't be needed if the proper restraints are in place."
Senator Kirsten Gillibrand tried to spell it out for them: "This emergency spending is just that — an emergency. We need to act now on fully funding the president's carefully crafted proposal," she said. A White House spokesman argued, "While this number does not include all of the potential costs identified by the states, it is a strong, specific, and urgent request that will provide communities with needed resources to implement long-term rebuilding plans," adding that the request for aid was a bipartisan decision.
Governor Andrew Cuomo isn't worried quite yet, the Journal reports:
A Cuomo administration official expressed confidence about the passage of a large relief package, saying House Majority Leader Eric Cantor (R., Va.) didn't express major reservations in a conversation with the governor Wednesday.

A senior aide to Mr. Cantor said the lawmaker told Mr. Cuomo that House Republicans wanted to meet the most pressing needs of people affected by the storm. Mr. Cantor didn't commit to any specific amount of money, the aide said.
But it's probably time for Chris Christie to start yelling, just in case.