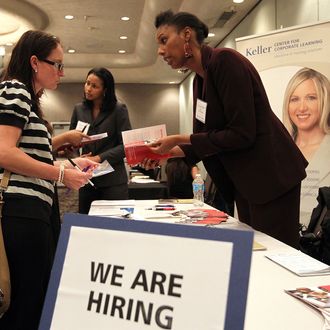 Photo: Justin Sullivan/Getty Images
The latest numbers from the Bureau of Labor Statistics are out, and just because the stuffy old Wall Street Journal is calling it the "least-important jobs report in five years" doesn't mean we can't get a little excited.
The report says that the U.S. economy gained 146,000 jobs in November, and that the unemployment rate fell to 7.7 percent. Economists were predicting only 86,000 new jobs, in part because of Hurricane Sandy's effect on businesses. But the BLS says that Sandy "did not substantively impact the national employment and unemployment estimates for November."
The report is not all good. Last month's numbers were revised downward, and several worrying trends are still lingering, like the continued decline of the manufacturing sector (which lost 7,000 jobs) and the number of jobs in the construction of buildings (which declined by 11,000, despite a nascent nationwide housing recovery).
On the plus side, the report did show thousands of added jobs in other core areas like health care and retail trade, as well as an additional 3,000 jobs in something called "wood products." Which, according to Daily Intel's in-house team of economists, either means that people are buying their Christmas trees in November these days, or that the lumberjack renaissance is finally upon us.