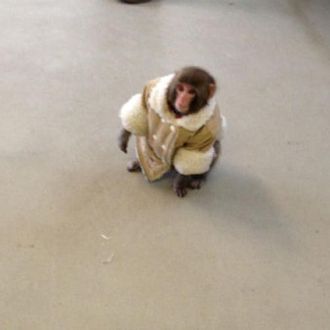 Have yourself a crappy, lonely Christmas.
Photo: @bronwynpage
The miniature Santa suit that Yasmin Nakhuda bought for Darwin the IKEA monkey will go unworn this Christmas. The bow tie that Darwin was going to don for New Year's Eve will remain untouched. Judge Michael "Gingrich" Brown ruled today that Darwin cannot be released "at least until mid-January" from the animal sanctuary where he has lived since escaping from Nakhuda's car in an IKEA parking lot earlier this month, Reuters reports. Apparently, owning a pet monkey is "against" the "law" in "Toronto." To Nakhuda's husband Sam, that's a bunch of malarkey.
"Darwin is not a dog," Sam said outside the courthouse, "he's not a cat, he's not lizard. He's 93 per cent human DNA." That includes the part that loves Christmas, probably.