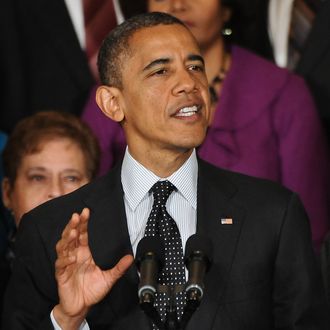 Photo: Nicholas Kamm/AFP/Getty Images
President Obama's 2013 inauguration is going to look a bit different from the 2009 version. Four years ago, Obama declined all corporate donations to his inaugural committee, choosing instead to pay for the 1.8 million-attendee, $53 million Washington, D.C. celebration — during which he attended ten balls — with gifts from individual donors, which he capped at $50,000 for single people and $100,000 for couples. This year, he'll be accepting unlimited money from any person or institution willing to fork it over (with the exception of lobbyists and PACs), and the festivities will be be limited to "a candlelight ball for members of Mr. Obama's national finance committee, a military ball and a large presidential ball." While some Obama supporters are disappointed by the news, his party planners have concluded that they need to "expand their fund-raising efforts," since many Democratic donors are feeling drained by the presidential campaign. To that end, the inaugural committee will be offering party packages to the most generous contributors: 
[An] online solicitation, sent to donors by e-mail on Friday, described the different inaugural packages, each named for a president: Washington ($1 million from institutions and $250,000 from individuals); Adams ($500,000 from institutions and $150,000 from individuals); Jefferson ($250,000 from institutions and $75,000 from individuals); and Madison ($100,000 from institutions and $10,000 from individuals).
The companies and firms barred from getting into the action last time are applauding the change. "It's a smart move by the president's team," someone described as an "in-house corporate source" told Politico. "There will definitely be interest." A representative from watchdog group Democracy 21 lamented that reality, telling the paper, "This is a way for corporations to make contributions to directly benefit a federal official, in this case the president of the United States, and that's precisely the reason they should not be doing this." Meanwhile, the Republican National Committee took the opportunity to get back into the game by accusing Obama of "flip-flopping." The president's people defended the new policy by pointing out that "museums, philanthropic organizations and service groups" all accept corporate money — and that there's just no other way to drum up the millions of dollars they need for the inauguration in the six weeks between now and January 20.