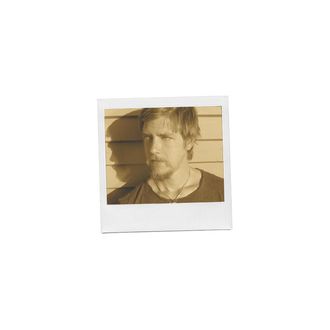 Photo: Helena Christensen
Name: Paul Banks
Age: 34
Neighborhood: East Village
Occupation: Lead singer, Interpol (Whose Turn on the Bright Lights was reissued this year for their tenth anniversary. Happy anniversary, Interpol!). His latest solo album, Banks, is out now, and you can catch him this Friday, December 14, at Webster Hall.

Who's your favorite New Yorker, living or dead, real or fictional?
Henry Miller grew up in Williamsburg, worked at a tailor's on Delancey as a boy, lived in the Village as a man, ran a speakeasy out of his apartment, wrote a book in Brooklyn, romanced in Central Park, danced at the halls of Times Square … Except for that last part, he was a prototypical hipster! But really because I cherish the way he recounted his days and nights in this beautiful town (check out Black Spring for instance).
What's the best meal you've eaten in New York?
Per Se or Desnuda.  Per Se is the ultimate date night. REALLY expensive, but dishes with flavor, texture, and presentation that, in my experience, are without peer. Desnuda is also dining perfection in a simpler form. They serve ceviche and truffled popcorn. That's it. Super-fresh, super-zesty. Exquisite.

In one sentence, what do you actually do all day in your job?
I wait and then I play.

What was your first job in New York?
Andy's Chee-Pees on Broadway: the one that was by Union Square back then. I was fired my first day — upon arrival — for being two hours late.

What's the last thing you saw on Broadway?
Like Broadway show? Sheeit. It's been over a decade. I saw Rent when I moved here, and shortly afterward, a friend of a friend was appearing in The Lion King, so I saw that too. And that was it for me and Broadway.

Do you give money to panhandlers?
Yes.

What's your drink?
Buckler N.A.

How often do you prepare your own meals?
Ten percent of the time. When I'm in NYC, 0.0 percent.

What's your favorite medication?
One A Day chewable vitamins.

What's hanging above your sofa?
A large pen-on-paper drawing a fan gave me in Belgium. It has kids playing and laughing — all realistic depictions — but the images are all superimposed over each other. And there's a grenade in the picture too. It's not creepy or even dark; it's just beautiful. Next to that, I have a portrait of a woman that I bought in Budapest. Topless.

How much is too much to spend on a haircut? 
I don't know. For a dude, I'd say $100 is the cap.

When's bedtime?
3 a.m.

Which do you prefer, the old Times Square or the new Times Square?
The old. But I didn't ever go there much in the early Giuliani days either.

What do you think of Donald Trump?
I was a little disappointed with the birther stuff. Other than that, I get a kick out of him, to be honest. 

What do you hate most about living in New York?
Looking for a cab at 4:30 p.m. or walking on Eighth Avenue by MSG during rush hour.

Who is your mortal enemy?
People with umbrellas.

When's the last time you drove a car?
A few months ago. I drove a Mercedes wagon on a movie shoot. I was "Guy in Mercedes."

How has the Wall Street crash affected you?
Lost some invested dosh, I guess. And in the sense that I'm a participant in our economy, I suppose it affects me as much as everyone else.

Times, Post, or Daily News?
Times. They're huge supporters of my work, god bless 'em.

Where do you go to be alone?
The record store. Just kidding! I bike up the West Side Highway all the way to GW Bridge. That is a wonderful trek, and although you're never really alone, it's very meditative. As good as it gets for me in NYC, as far as that goes.

What makes someone a New Yorker?
If you've ever given directions to a tourist without them having asked you for them, you're a New Yorker.