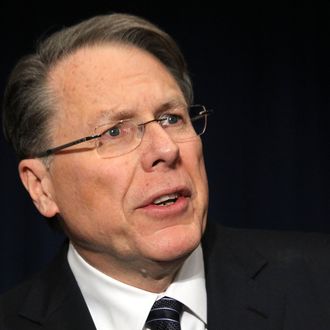 Wayne LaPierre.
Photo: Alex Wong/2012 Getty Images
This morning on Meet the Press, National Rifle Association CEO Wayne LaPierre elaborated on why he believes placing armed guards in every school is the best way to prevent tragedies like the Newtown shooting:  The policy has already proven successful in Israel. "Israel had a whole lot of school shootings until they did one thing," said LaPierre. "They said, 'We're going to stop it,' and they put armed security in every school, and they have not had a problem since then." So if eliminating the problem is that simple, why aren't other countries following Israel's lead? Well, according to Israeli officials, what LaPierre said isn't exactly true. "We didn't have a series of school shootings, and they had nothing to do with the issue at hand in the United States. We had to deal with terrorism," Yigal Palmor, spokesman for the Israeli Foreign Ministry, tells the Daily News. "What removed the danger was not the armed guards but an overall anti-terror policy and anti-terror operations which brought street terrorism down to nearly zero over a number of years."
Reuven Berko, a retired Israeli Army colonel and senior police officer, agreed that Israel's problem with gun violence in schools was fundamentally different. "There is no comparison between maniacs with psychological problems opening fire at random to kill innocent people and trained terrorists trying to murder Israeli children," he said.
"It would be better not to drag Israel into what is an internal American discussion," suggested Palmor. That's especially true for the NRA, since Israel actually has stricter gun control laws than the United States.