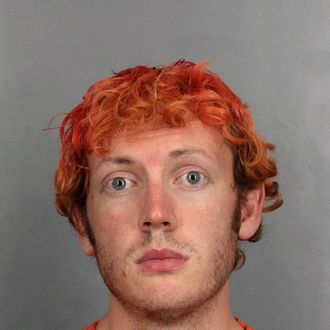 Photo: Handout/2012 Arapahoe County Sheriff's Office
Attorneys for Aurora, Colorado, shooter James Holmes want to know how Fox News learned about his scary notebook, and plan to subpoena reporter Jana Winter over the matter, they announced in court yesterday. A package addressed to Holmes's psychiatrist was found in the University of Colorado mail room four days after the shooting. According to a Fox News report, it was "full of details about how he was going to kill people" and "drawings and illustrations of the massacre," revelations the defense says violate a gag order in the case.
Nine different law enforcement officials testified yesterday that they were not the source of the leak, the Associated Press reports, and that they did not even know of the notebook's existence until Holmes's lawyers asked for it back. It was then found undelivered, and "I just kind of fanned through it with my thumb," said Aurora detective Alton Reed. It was eventually handed over to the court.
Should Winter be called to testify, she'll be pressured to reveal her source's identity, something generally frowned upon in her profession. Fox News said in a statement that it has yet to receive a subpoena and will figure things out if the time comes.