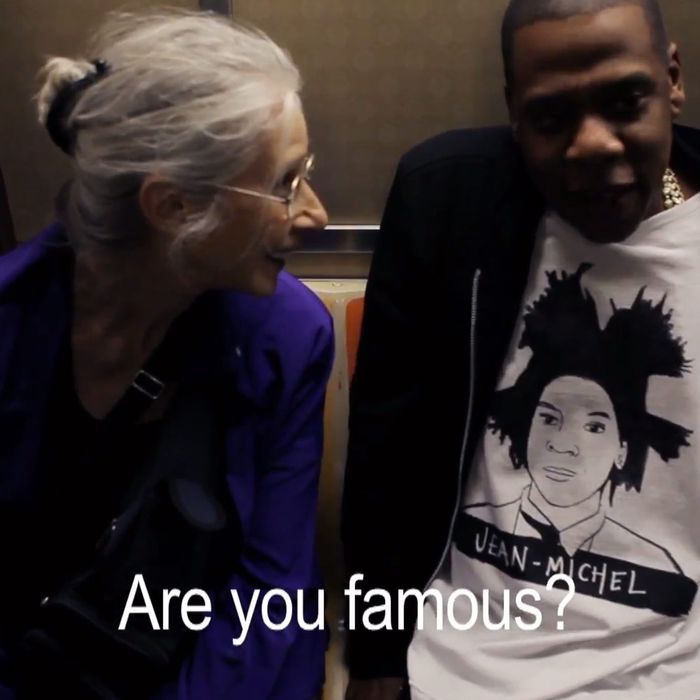 The breakout star of Jay-Z's mini-documentary "Where I'm From," a look at his opening eight concerts at Brooklyn's Barclays Center, is a 67-year-old white woman. Ellen Grossman, a New York City visual artist, was sitting quietly on the subway when the rap legend sat conspicuously beside her, camera crew and smartphone-snapping fans in tow. "Are you famous?" she asked. "Not very famous — you don't know me," he shot back, introducing himself simply as Jay and announcing that he was on his way to a show by public transit. "I'm proud of you," she replied with grandmotherly warmth. Both of them wore real smiles.
"As the conversation evolved, I realized, He's really famous!" Grossman told Daily Intel by phone this morning. "So I said, 'What was your name again?'"
"I was on a fairly sparsely populated subway car, and I was sitting in the corner," she explained. "At Canal Street, a surge of people got on, and since my son was in the buildings on 9/11, my first reaction was that there had been a disaster upstairs. But everyone was laughing and smiling. My second reaction was, 'Oh there's a flash mob.'
"They were filming this one guy that I didn't recognize, which is why I said, 'Are you famous?'" she recalled. When he finally said Jay-Z, it clicked. "I thought about R&B … rap, that music, which I listen to occasionally because I want to be in touch." Her knowledge of hip-hop, though, is dated. "LL Cool … Ice Cube — it's old stuff."
Grossman, a Brooklyn native, was shown the film when its producers asked her to sign a waiver. "I loved it! It was very energizing talking to Jay-Z. Just who he is, not having to do with all the cameras, but he really, genuinely spreads an aura of empowerment around him," she gushed. "And I suspect he was always able to do that even before fame. It's not just directed at younger people. I picked up that feeling, too."
Now that the clip has taken off, "my friends have all gotten in touch with me, and I have a zillion requests to be Facebook friends with people," said Grossman. Her jealous 12-year-old granddaughter said, "I wish I could hang out with Jay-Z, too." And yes, she'd definitely be willing to collaborate with Jay, suggesting that maybe her work with chain-link fences would match his aesthetic. "I don't think I'm capable of altering what I do to tailor to him, but I think there might be some intersection," she said.
But she'd settle for watching him in action. "Now I want to see the show!"