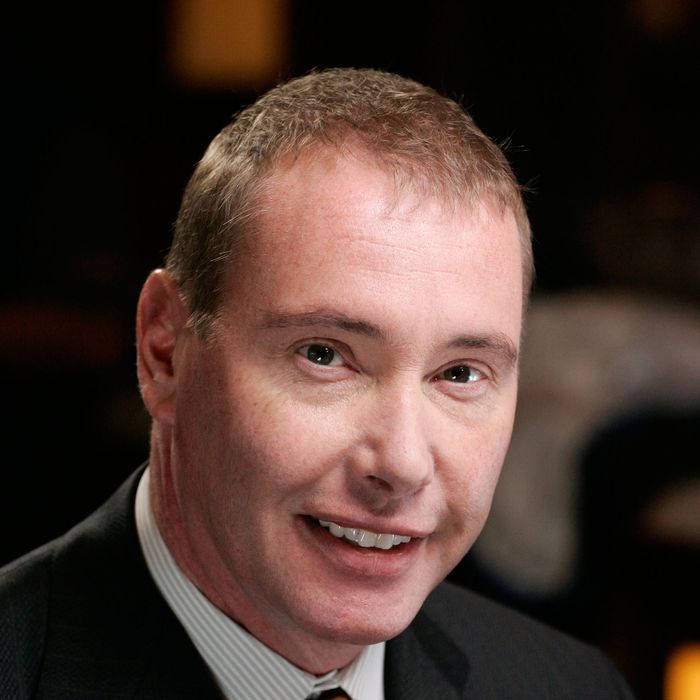 Cojones not pictured.
Photo: Jonathan Alcorn/Bloomberg via Getty Images
On December 4, 2009, Jeffrey Gundlach — the star bond investor who is referred to as "the Godfather," "the Pope," and "brilliant," by himself, himself, and the FBI investigators who found his stolen art collection, respectively — was fired by TCW, a California-based asset management firm where he had been the head of fixed-income trading. Subsequently, Gundlach took a group of TCW employees with him to start a new firm, DoubleLine Capital.
A huge, messy legal battle followed over whether Gundlach had stolen TCW's corporate secrets on the way out the door, and a high-profile trial last year elevated the Gundlach-TCW feud into a full-fledged war. (Eventually, both parties settled out of court after a split verdict.) Gundlach has since stuck it to TCW by building DoubleLine into one of the fastest-growing funds in history, but he has never dropped his grudge against the firm that fired him.
And so Tuesday, on the third anniversary of what he calls his "independence day," Gundlach threw a self-celebratory bash in a place where TCW would be sure to see it: the restaurant inside their office building.
We spoke to a person who attended the Gundlach party, which was held just steps from TCW's Los Angeles offices at the Magnolia restaurant, and was open to all of DoubleLine's employees.
The party was "very clearly" designed to rub Gundlach's recent successes in TCW's face, our source said. The interior of Magnolia is clearly visible as you exit TCW's office, and above the bar, Gundlach hung a banner that read "DoubleLine $50 Billion" — the amount of money his new firm has raised so far.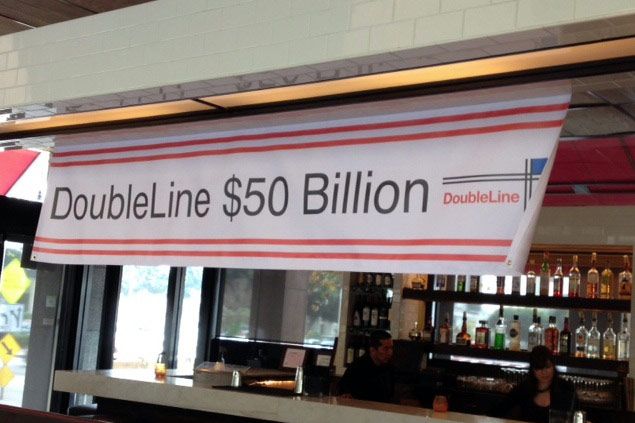 The party itself, which was first reported by Dealbreaker, was standard Wall Street fare. Filet mignon, salmon, and tuna tartare were served buffet-style with an open bar, and several gag gifts were exchanged. (Non-gag gifts, too: Gundlach was given an iPad with the DoubleLine logo on the cover.)
Midway through the evening, the Bond King himself gave a toast to his employees, many of whom had fled TCW with him three years earlier.
"Three years ago, there were more than 40 of you who jumped off the diving board with me, believing that there would be water in the pool by the time you got there," he said, raising a glass of Cristal. "I'll never forget that."
The party ran from two in the afternoon until past nine o'clock, and it seemed to have its intended effect: Over the course of the evening, many TCW employees on their way to the parking garage stopped in their tracks to gawk at the party going on inside. Some looked horrified; others laughed at Gundlach's audacity; a few even surreptitiously entered the restaurant to shake their old colleague's hand, our source said.
And in case there was any doubt that Gundlach's independence day bash was designed as a conspicuous middle finger to TCW, the firm brought back a piece of evidence from last year's trial — a poster showing the faces and names of several top TCW executives who had played a role in Gundlach's firing. (Gundlach's lawyers had used it in court to try to prove that the TCW executives had cooked up a secret plan, code-named "Project G," to get rid of him.)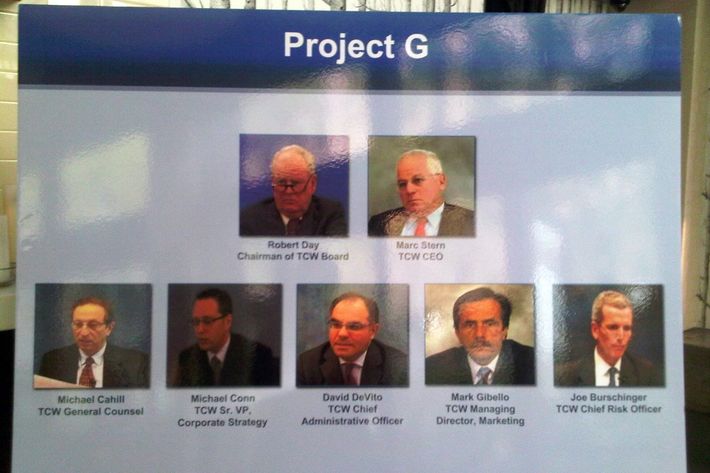 Gundlach's team placed it near the entrance to Magnolia, in full view of TCW. And midway through the night, our source said, one of Gundlach's employees e-mailed several of the executives pictured on the poster. The message read, simply: "He couldn't have done it without you."
TCW declined to comment.