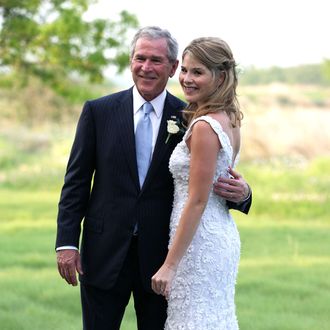 Former first daughter Jenna Bush Hager used her platform on the Today show to announce that she's pregnant this morning, thrilling at least one impatient man who used to be president. "I'm fired up," said George W. Bush by phone, having told AARP in 2010, "I'm a little disappointed it hasn't happened yet." His desire to be a grandfather was well-documented: "I just have a cat, to my parents' dismay," Jenna said last year. "My dad saw my husband's boss at a conference, and he said to stop paying my husband until we produce children." Now America has a Kate Middleton to call its own.
Asked by Matt Lauer how the child will refer to its very excited grandfather, Jenna put "Popsicle" into the running, which might be a Texas thing. "Sir," said Bush.
The little heir will be eligible to run for president in 2048.