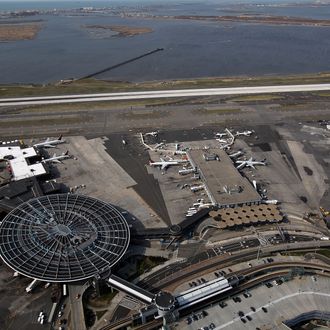 Hopefully you won't be spending Christmas Eve here.
Photo: Spencer Platt/2011 Getty Images
Last week, 300 security guards at John F. Kennedy Airport announced plans to walk out on December 20, but on Tuesday they agreed to call off the strike, for now at least, pending meetings with their employers. The Port Authority urged the two groups to work together, noting that "a strike at this time would be disruptive to millions of travelers and exact a toll on our economy." For now we'll take this as a Christmas miracle, but if Air Serv Corp. and Global Elite Group Inc. fail to resolve their issues with employees — which include allegations of inadequate training and equipment — travelers could still be kicking off 2013 under some of the most irritating circumstances imaginable.