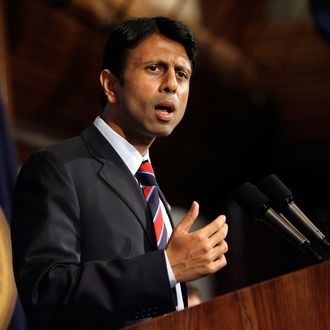 Photo: Chip Somodevilla/2008 Getty Images
Bobby Jindal led the way in post-election Romney bashing, and now he's making the first move toward a more female-friendly GOP. While several prominent Republicans made a quick turn-around on immigration reform in an effort to win over Latinos, they still seemed stumped on how to reach out to female voters. In the past few weeks they've even provided more fodder for those who say they've waged a "war on women" by blocking the Violence Against Women Act and announcing that the House committee chairs would all be white men (following the uproar they added one woman to the mix). In a Wall Street Journal op-ed, Jindal continues pushing his message of a kinder, less "stupid" GOP, saying that he agrees with the American College of Obstetricians and Gynecologists' recent announcement that birth control pills should be available over the counter, with no prescription. Presumably Jindal agrees with the medical association's argument that this would "possibly decrease unintended pregnancy rates," but he doesn't directly mention improving women's health. Instead, he says the move would put an end to the Democrats' "disingenuous" claim that Republicans are anti-birth control, and finally "take contraception out of the political arena."
Jindal explains that while he's an "unapologetic pro-life Republican," he believes everyone over the age of 18 should be able to purchase birth control pills, and suggests that this would solve the problem of those with religious objections being "forced by government health-care edicts to purchase it for others." He continues:
Let's ask the question: Why do women have to go see a doctor before they buy birth control? There are two answers. First, because big government says they should, even though requiring a doctor visit to get a drug that research shows is safe helps drive up health-care costs. Second, because big pharmaceutical companies benefit from it. They know that prices would be driven down if the companies had to compete in the marketplace once their contraceptives were sold over the counter.
The more common explanation is that exams were required when the pill was first introduced, and decades later we haven't shaken the habit. While we now know much more about the health risks (or lack thereof), doctors are concerned that women won't come in for check ups if they don't need a prescription. (Though a 2010 study did say it's possible that doctors require office visits so they can collect the insurance reimbursement.) It's also unclear whether making the pill over the counter would increase or decrease costs for the patient. In its recommendation, the American College of Obstetricians and Gynecologists notes that "some women might be adversely affected by changing to over-the-counter OCs if they lose insurance coverage for their preferred contraceptive method," and says any plan to lose the prescription requirement "should address issues of cost."
While Jindal blames "President Obama and the pro-choice lobby" for the odd situation in which emergency contraception is available without a prescription but birth control pills aren't, "big government" may not be as opposed to the move as Jindal suggests. The FDA has been considering making the pill over the counter for years, and the Associated Press reports that it responded to the medical association's new recommendation by saying it's "willing to meet with any company interested in making the pill nonprescription, to discuss what if any studies would be needed."
Though Jindal concludes that everyone can embrace the "end of birth-control politics," some conservatives clearly disagree. Earlier this month, Dr. Gene Rudd of the Christian Medical Association said the proposal is "wrongheaded and disturbing" and argued that serious complications from the pill are rare due to frequent screenings. Janice Shaw Crouse of Concerned Women for America brought up an argument conservatives used against expanding access to emergency contraception, saying "Any guy who is older and taking advantage of a younger girl could put her on a pill." If Jindal hopes to woo female voters with his enlightened attitudes toward birth control, he'll need to hash things out with certain elements of the Republican party first.