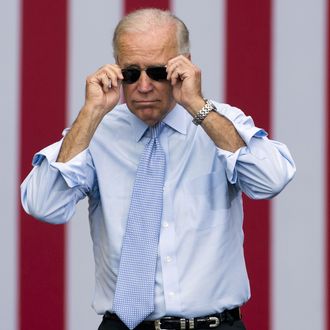 Photo: Saul LoebSAUL LOEB/AFP/Getty Images2012 AFP
When President Obama promised to use "whatever power this office holds" to curb gun violence after the tragedy in Newtown, he meant Joe Biden. At a White House briefing this afternoon, Obama will continue to gradually outline his plan to pursue gun-control policy, beginning with the naming of Joe Biden as the head of an inter-agency task force. The specifics of the president's guaranteed "meaningful action" will not come today, but we're getting there.
"It's a complex problem that requires more than one solution," said White House spokesman Jay Carney yesterday. "It calls for not only re-examining our gun laws and how well we enforce them, but also for engaging mental health professionals, law enforcement officials, educators, parents and communities to find those solutions." Policy-wise, Carney did add that Obama is "actively supportive" of an assault-weapon ban, as well as closing gun-show loopholes, and "wants to move in the coming weeks."
Senior Obama adviser Valerie Jarrett also met yesterday at the White House with past victims of gun violence and Brady Campaign president Dan Gross, who told Politico, "She in no uncertain terms reaffirmed the president's commitment to doing whatever he can … to make this the best nation that we can be and protect the safety of our kids. She said that we need to look at the issue comprehensively and policy is part of it."
As for Biden, he's been a longtime advocate for gun control, working as a senator to write and pass the 1994 federal assault-weapons ban and earning an F grade from the NRA, along with the title of "the most anti-gun vice president in American history." So that's a start.
Update: "It's now been five days since the heartbreaking tragedy in Newtown, Connecticut," said Obama this afternoon. "Every day since, more Americans have died of gun violence."
"If there is even one thing that we can do to prevent any of these events, we have a deep obligation, all of us, to try," he continued. "The fact that this problem is complex can no longer be an excuse for doing nothing."
The group led by Biden will "come up with a set of concrete proposals no later than January," the president said. "This is not some Washington commission" writing a report "to be read and pushed aside," he insisted, calling on Congress to act in a timely manner. "This time, the words need to lead to action."