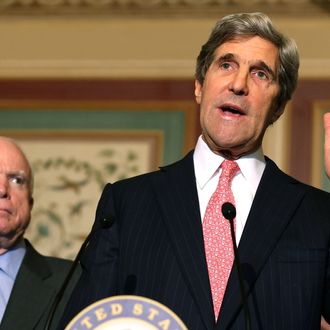 Photo: Mark Wilson/Getty Images
Now that Susan Rice has withdrawn her name from consideration to replace Hillary Clinton as secretary of State, John Kerry is sitting pretty, even with Republicans who so giddily tore him apart in 2004. High off of their effective popping of the Rice balloon, there's no indication that the GOP will give the new favorite for the spot anywhere near the hell they were prepared to rain down on Rice, whose early explanation of the attack in Benghazi became an insurmountable sin in the eyes of the right. Kerry, on the other hand, took his licks years ago and now gets a big shrug.
"I think John Kerry would be an excellent appointment and would be easily confirmed by his colleagues," Republican Susan Collins of Maine said last month. Senator Rob Portman agreed, predicting that Kerry would have "an easy time" being confirmed in the Senate. In Rice's "I give up" letter, she cited a "lengthy, disruptive and costly" nomination battle as just "not worth it."
"I think Kerry would sail through as secretary of State since so many senators have already said that he has the right judgment and experience for that position," a top GOP aide told the Washington Examiner. Another aide concurred: "I think Kerry gets through fine. We won by forcing Rice out. No one liked her."
In a statement about Rice, Kerry said, "As someone who has weathered my share of political attacks and understands on a personal level just how difficult politics can be, I've felt for her throughout these last difficult weeks, but I also know that she will continue to serve with great passion and distinction."
With former Republican Senator Chuck Hagel currently President Obama's top choice to replace Leon Panetta as Secretary of Defense, no one doubts that Kerry will get the nod for State. "There were two people on the list," an official said to NBC. "Two minus one is one." Kerry's trips to the Middle East on behalf of Obama bolster his standing among those who once portrayed him as a convictionless, effete French flip-flopper.
The possibility that Scott Brown could run to fill Kerry's Senate seat in Massachusetts is an added bonus for Republicans. With nothing to gain by attempting to block a Kerry nomination, this time we can skip the swift-boating.