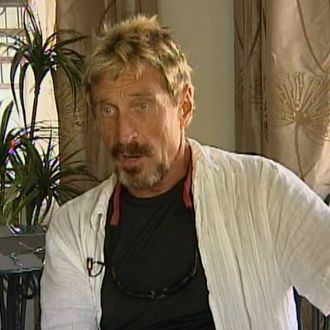 Past-his-prime software mogul, self-proclaimed master of misdirection, and rumored bath salts aficionado John McAfee will be deported to the United States, Reuters reports, adding another passport stamp to this convoluted saga. "I wish I could just pack my bags and go to Miami," he said over the weekend, although he's wanted for questioning in Belize over the murder of his neighbor, and now he's getting his wish, allegedly taking an afternoon flight to Florida. After evading authorities there for almost a month, McAfee turned up (with Vice, temporarily) in Guatemala, which apparently wants nothing to do with him.
"John will be released from detention at 9:00 A.M., Guatemala Time, from the Immigration detention center in Guatemals [sic] City. He has not divulged his plans," read a post on his frequently updated blog this afternoon. "Complying with migration law, Mr. John McAfee is to be deported to his country of origin," a Guatemalan official clarified. "I'll be leaving at 3:30 (p.m.) to Miami," McAfee told Reuters before leaving for the airport. "That was the only option I had. I can't take a flight that stops in any other country and there are only two flights going to America today."
He also explained that he'd been secretly using a "tiny laptop" and a fake name to keep up with his website while in custody. "The Guatemalans, by the way, have been as nice to me as my own family," McAfee wrote. "The guards and orderlies have been supportive and have treated me with kindness. The officials have been apologetic and pointed to the upcoming peace accord with Belize as a problem."
Earlier, his lawyer Telesforo Guerra told the AP, "it's best that McAfee go to the United States, that's definitely the country where he will be safest," and said the 67-year-old eccentric hoped to bring his 20-year-old girlfriend along. With or without her, he can now get to work on that biopic, in a race against that rapidly diminishing fifteen-minute clock.
Update: McAfee's flight has landed in Miami. "I'm here, I'm hungry. I plan to eat. That's basically it," McAfee said, adding, "If you've ever tasted Guatemalan jail food, it's not very nice, and I'd like some sushi." Previously, he reported that the coffee in Guatemalan jails is "excellent," so now we don't know what to think.