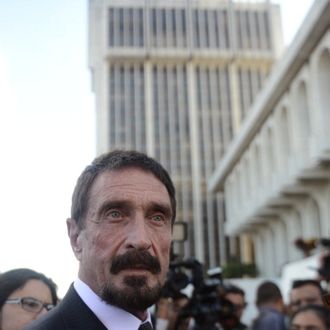 If you could call what John McAfee has been doing over the past few weeks "hiding" (what with his blog, his Vice magazine embed, and his CNN interview), then you could say the fallen anti-virus mogul has emerged from hiding to seek asylum in Guatemala after fleeing Belize, where he's wanted for questioning in his neighbor's death. McAfee's latest costume change has him in a dark suit and dyed-black hair and goatee, after he claims to have dressed up as a drunken German tourist and a Guatemalan curio vendor, among other things, to avoid Belizean police, who he thinks want to kill him.
McAfee on Tuesday hired Telésforo Guerra, the former Guatemalan attorney general and the uncle of his girlfriend Samantha Vanegas, reports Vice magazine editor-in-chief Rocco Castoro, who's been traveling with McAfee for the last few days. He told Reuters by phone about his reasoning for fleeing to Guatemala: "It is a country bordering Belize, it is a country that understands the corruption within Belize and most importantly, the former attorney general of the country is Samantha's uncle and I knew that he would assist us with legal proceedings."
On his own blog Tuesday, McAfee again denied killing fellow expatriate Gregory Faul, and he made this offer to Belizean Prime Minister Dean Barrow:
I will agree to meet you in a neutral country to discuss our mutual issues. It is entirely possible that you have little or no knowledge of the level of corruption being propagated throughout every branch of your government. I will turn over to you thousands of hours of video and audio as proof, providing that we meet as gentlemen and are mutually convinced of our honesty.
Barrow said last month McAfee was "extremely paranoid — I would go so far as to say bonkers."
All McAfee's recent "misdirection," as he calls it, has worked. Belize police say they still think he's in their country, despite the fact that he met with journalists in front of Guatemala's supreme court. "He said a lot of things. The police feel he's still here in Belize," Belize Police spokesman Raphael Martinez told CNN. Guatemala, which has an ongoing territorial dispute with Belize along its northern border, has no plans to take McAfee into custody, even though he crossed the border illegally, a source told Reuters. McAfee may be bonkers, but as far as avoiding the cops goes, he's bonkers like a fox.