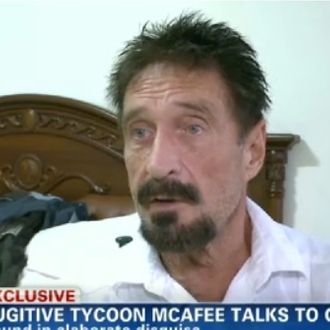 Yesterday, CNN finally got the elusive master of disguise and former cybersecurity whiz John McAfee in front of a camera, but it wasn't easy. Getting to McAfee involved "a secret phrase, a mysterious driver and a circuitous route full of left turns, right turns and U-turns" to a safe house in Belize, where he's been on the run since the November 11 shooting death of his next-door neighbor and fellow American expat Gregory Faull. In the interview, McAfee says he will not give himself in because he did not kill Faull — who'd often argued with McAfee over his dogs, four of whom were poisoned on November 9 — nor did he hire anyone to do the dirty deed. In the meantime, he's working to stay one step ahead of the authorities in a cat-and-mouse game chronicled (not always believably) on his personal blog, WhoIsMcAfee.com. He told CNN that he's disguised himself as both a drunk German tourist and a taco vender and that he has at least 200 disposable cellphones and a 20-year-old lookout named Samantha.
Then yesterday, less than six hours after user "John McAfee" posted on the blog that police may have poisoned one of his dogs, another user (generally named "News") put up a short post, which read:
We have received an unconfirmed report that John McAfee has been captured at the border of Belize and Mexico. More information as it is received.
This was most likely posted by Chad Essley, a graphic novelist and friend of McAfee's, who McAfee said would take over the blog were he ever captured. A user going by "Chad Essley" also posted in the comments section yesterday:
I just received an anonymous phone call saying John was captured, and the person calling, with a Hispanic sounding accent said he himself barely escaped. Will comment if I hear anything more.
By this morning, however, Chad Essley's antagonistic comments indicated that a troll had hijacked the account. (Daily Intel has reached out to Essley for comment and will update the post when he gets back to us.)
Almost immediately, reports began streaming in saying that McAfee hadn't in fact been apprehended, but was still on the lam. Agence France-Press, which notes that the Belizean police do not consider McAfee a suspect but merely want to question him, spoke to a U.S. Embassy source who denied McAfee's capture, citing people close to the former business tycoon. The San Jose Mercury News's sources in the country say the same thing.
Then there's Silicon Beat, which checked in with the mayor of San Pedro, where McAfee lived and donated stun guns to the local police (which he claims were later stuffed with cocaine in order to frame him), who said "it's not true" that McAfee had been captured. The site also spoke to a senior reporter at the San Pedro Sun who, standing next to the country's Minister of National Security, said, "I can tell you positively that John McAfee has not been captured." So, this will just keep getting weirder then.