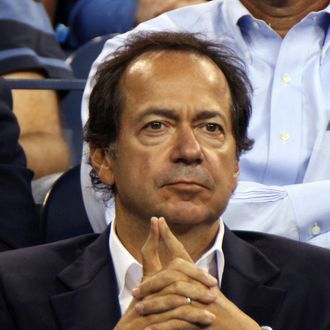 Photo: Rick Maiman/Bloomberg via Getty Images
If we were friends with John Paulson, we might start worrying right about now.
Clearly, the hedge fund gazillionaire is suffering from exhaustion, or why else would he be acting like the NBA players in the first 75-ish minutes of Space Jam?
CNBC reports that P-Money is down 17 percent in his main Advantage fund this year, and nearly 30 percent down in his Gold fund. Combined with last year's dismal performance, this year's face-plant means that Paulson has now spent 24 months in a row failing to live up to the lofty expectations he set in 2010, when he made — let's see, 20 percent of … hmm … carry the one — approximately infinity dollars.
So, John, as your imaginary but genuinely concerned friend, here's our advice: Kick your feet up. Relax, breathe deep, take a little walk in the park. Send the boys home in 2013, get a mud facial, drink some daiquiris in Cabo, maybe buy one of these, and come back in 2014 refreshed and ready to earn your 2-and-20. Your investors will still be there, and they'll be happy to see you back to normal.
It'll do you good. We promise.