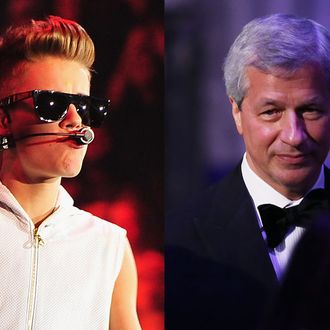 He's coming for you, JD.
Photo: Theo Wargo/Getty Images; Spencer Platt/Getty Images
JPMorgan has enemies all over Wall Street: rival firms like Goldman Sachs, spurned former employees like Ina Drew, and those who are just jealous of how rich and fabulous Jamie Dimon is. (Looking at you, Corbat.)
But the House of Dimon acquired a new nemesis last week, and this one could take the whole ship down if they're not careful.
According to the Post:
When [Justin Bieber] and his crew hit Susan Sarandon's ping-pong club SPiN Wednesday, they were directed to a private room away from the masses, but told they'd have to give up the space at 6:30 p.m. for a private party. When the time came, a spy says, a SPiN staffer popped into Bieber's VIP room to tell him it was time to go. The singer's posse didn't want to leave and started to kick up a fuss, but they were told, "We're really sorry, the room is booked … J.P. Morgan is having a private party."
Bieber's response — "Why does he get the room and not us?" — suggests either that the young pop phenom was making an arch joke about John Pierpoint Morgan, who died in 1913, or that he doesn't quite understand that today's JPMorgan is a global financial institution and not just a dude who likes Ping-Pong.

But when he figures it out, there's going to be trouble at 270 Park. The London Whale is a fluffy kitten compared to the potential havoc a mobilized Bieber nation could wreak. We'd suggest the bank make reparations, stat, beginning with a fruit basket and ending with having Jamie and Jimmy personally oversee the Bieber financial empire pro bono.
UPDATE: Jennifer Zuccarelli, a JPMorgan Chase spokeswoman, gives us the following statement on behalf of the firm: "We apologize for the confusion. Justin is welcome to play ping pong with us anytime."