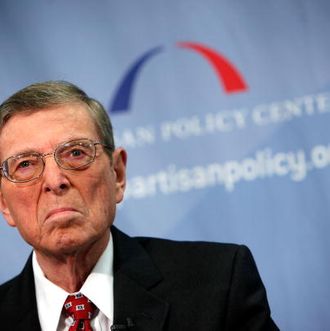 At the end of last week, voting on John Boehner's "Plan B" bill — which would have raised taxes on those making more than $1,000,000 a year — was canceled after it became clear that conservative House Republicans would not put their names on anything involving a tax increase for anyone. So, as the journey toward the fiscal cliff continues, we thought it would be a good time to spend some time with the last congressional Republican to vote for an income tax hike: former New Mexico Senator Pete Domenici. On a Saturday in October 1990, Domenici voted for what became the Omnibus Budget Reconciliation Act of 1990, which was signed into law by President George H.W. Bush in violation of his "Read my lips, no new taxes" vow. Bush's betrayal renewed the Republican commitment to tax opposition that has held firm until today and counting.
Domenici couldn't have realized he was waving in the end of an era; just look at how casual he was about it: "[He] turned from a conversation on the Senate floor, caught the eye of a clerk by raising his right hand and voted in favor of a huge and contentious bill to reduce federal deficits. Then he put his hand back into his pocket and returned to the conversation." So, now that we know what the guy looks like while he's making history, here are some other facts:
Name: Pietro "Pete" Domenici.
Hometown: Albuquerque, New Mexico.
Political Office: Senator for the State of New Mexico from 1973 to 2009, the longest any person has ever held the office in that state. He served as chairman of the Senate Budget Committee for at least 12 of those years.
Claim to Fame: Producing "two consecutive balanced budgets, the only federal balanced budgets in the last 50 years," according to his bio on the Bipartisan Policy Center's website.
Other Jobs: High school math teacher and lawyer.
Nickname(s):  Bocce, as in the Italian lawn bowling ball, which he (as a 10-pound baby) apparently resembled, according to his aunt; also St. Pete, for his "ability to bring federal cash to the national labs and attention to constituent needs, whether it was acequias or veterans services," explains the Albuquerque Journal.
Endearing Traits: Helped a young female staffer unload her U-Haul and move in to a new apartment.

Not So Endearing Traits: Domenici was known to call up newsrooms to berate reporters and editors for not quoting him in stories before hanging up without bothering to say "Good-bye," reports the Albuquerque Journal.
Pet Cause: Mental health issues. He was responsible for the 2008 Mental Health and Addiction Equity Act, requiring insurers to cover mental health care. (Domenici has a daughter who suffers from schizophrenia.)
Bipartisan Appeal: In a 1996 interview, he admitted that, "I got elected by a lot of Democrats."
Opinion on the Deficit/Debt Crisis: As co-chair of the Bipartisan Policy Center deficit reduction taskforce, Domenici testified before Congress in June, arguing that, "in addition to reining in spending, reducing our debt will require raising additional revenue."
Favorite Way to Raise Revenue: Tax reform, except for when it's tax hikes.
Extent to Which He Blames Today's Republicans for the Fiscal Cliff Impasse: "There has been a hardening in the Democratic line, too," he told the New York Times recently. "There isn't any Democrat in here that is going to help with these cuts."