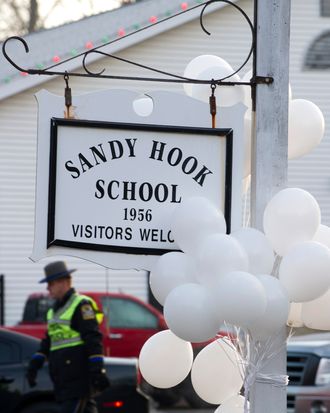 Police guard the entrance to the Sandy Hook School on December 15, 2012 in Newtown, Connecticut. The residents of an idyllic Connecticut town were reeling in horror from the massacre of 20 small children and six adults in one of the worst school shootings in US history. The heavily armed gunman shot dead 18 children inside Sandy Hook Elementary School, said Connecticut State Police spokesman Lieutenant Paul Vance. Two more died of their wounds in hospital.
Photo: Don Emmert/AFP/Getty Images
New Haven attorney Irving Pinsky has asked the state of Connecticut, which is normally immune to such lawsuits, whether he can sue it on behalf of "Jill Doe," a 6-year-old survivor of the Sandy Hook Elementary School shooting that left twenty of her classmates dead. In a filing, Pinksy said he is seeking $100 million in damages caused by Connecticut's failure to protect the child "from foreseeable harm." "It's about living in a world that's safe" and improving school security, he told the AP. No response has been given so far, but, sadly, it seems safe to say that this isn't the last time we'll hear about a Newtown-related lawsuit.