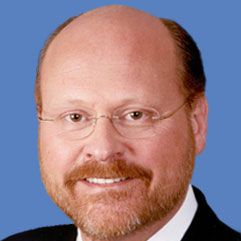 Last Wednesday the four Democrats who would be mayor faced a ballroom full of city business executives and a blunt first question. "Will the next mayor be as understanding, as visionary, and as sympathetic to issues of the economy and business as Mayor Bloomberg, one of our own, has been?" Kathy Wylde asked. She is the president of the Partnership for New York City, the best-connected business group in town, which co-sponsored the forum last week with Crain's. "There is consternation about the post-Bloomberg era." Just two days later, though, some of those same business leaders saw the hope of a brighter future standing right in front of them: Joe Lhota, appearing at a board meeting of the Partnership.
In 2008 the business community was alarmed at the prospect of Bloomberg departing and pushed him to rewrite term limits and stick around for four more years. This time, though, it has tried and failed to lure a mogul or a non-politician into the field. Yet Hurricane Sandy may have delivered a late great hope to the city's ruling class, which was becoming jittery at the prospect of a left-of-center career politician moving into City Hall. Lhota, a former Rudy Giuliani deputy mayor, has been head of the MTA under Governor Andrew Cuomo for the past year. The speedy restoration of subway service after the storm has turned him into something of a governmental folk hero — and made Lhota a possible savior for city Republicans who have been flailing around trying to find a horse for 2013.
 
First Lhota has to decide whether he wants to run and give up a job he loves. Today he got what sounded like veiled encouragement from Cuomo: "I would like to see Mr. Lhota do what Mr. Lhota wants to do." If Lhota does become the Republican candidate it will set off a fascinating series of questions and calculations: How would Bloomberg balance his genuine respect for Quinn and his dislike of Lhota's last two employers — Cuomo and Madison Square Garden's Jim Dolan — against his loyalties to the business crowd, who would presumably be backing Lhota? Would Cuomo mute his support for the Democratic nominee, claiming he had mixed feelings about campaigning against a former aide? And have the city's politics moved enough to the left to hurt a business-sponsored candidate? "Bloomberg wouldn't be electable in 2013, if he was running for the first time," a mayoral ally says.
 
Last Friday, at the Partnership board meeting, Lhota delivered a briefing on the MTA's post-Sandy recovery. His audience included Ken Chenault (American Express), Terry Lundgren (Macy's), Larry Fink (BlackRock), Lloyd Blankfein (Goldman Sachs), Steve Schwarzman (Blackstone), and Candace Beinecke (Hughes Hubbard). Someone asked Lhota if he thought the mayoral field was set. The head of any state authority, though, is bound by law from talking about running for elective office. So Lhota didn't answer. But he will soon.