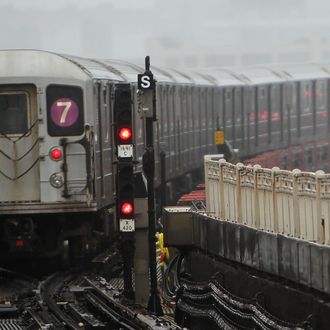 Photo: Spencer Platt/2010 Getty Images
For the second time this month, the worst thing that can happen on the subway has happened. Just after 8 p.m. on Thursday, a young woman pushed a man to his death at the 40th Street-Lowery Street subway station in Sunnyside, Queens. Witnesses say that the woman was pacing and mumbling to herself, and eventually took a seat on a bench. The victim was standing near the edge of the platform and didn't seem to notice her. As the Flushing-bound 7 train pulled into the station, the woman silently shoved him onto the tracks, then bolted out of the elevated station. The man was hit by the first car, then stuck under the wheels of the second car. "I knew he was gonna get hit by the train. That's why I closed my eyes. I didn't want to see it," a witness told the Post. "I could see him, and I could see a train coming. And I couldn't do anything. I was so helpless. He was trying to get up. It was so fast."
The man has yet to be identified, as his body was still on the tracks on Thursday night. The New York Times reports that officers planned to use specialized inflatable bags to lift the train and recover his remains. "We haven't determined whether it was random or if there was some connection yet," said NYPD spokesman Paul Browne, "but there was nothing from what the witnesses could see to indicate that they knew each other and he did not, according to the witnesses, appear to realize that she was approaching." While the death of 58-year-old Ki Suk Han earlier this month, and the Post's grisly cover, sparked a debate about whether fellow riders could have done more to save him, Browne said that it seems there wasn't enough time for anyone to act this time.
Police are still searching for the woman, who's described as a heavyset Hispanic woman in her 20s who was wearing a gray, blue, and white ski jacket with gray Nike sneakers. There are no surveillance cameras on the subway platform, but police are reviewing footage from a local restaurant near the station's entrance.
"I'm sure they are going to get her," Giovanni Briones, the restaurant owner, says. "There are a lot of sick people out there — mentally ill. It's very sad."
This post has been updated throughout.