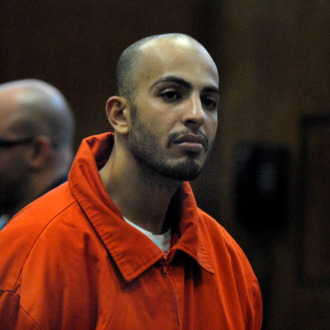 Ahmed Ferhani.
Photo: GREGORY P. MANGO (917) 673/2011 AFP
Ahmed Ferhani, one of two men arrested in May 2011 for plotting to blow up a synagogue in Manhattan, pleaded guilty to ten charges on Tuesday in a rare state-level terror conviction. Ferhani and Mohamed Mamdouh were arrested while buying a hand grenade, pistols, and ammunition from a police officer posing as a weapons dealer named Ilter. The Post reports that Ferhani was caught on tape describing plans to dress like a Hasidic Jew so he could plant a bomb in a synagogue, and also talked about coordinating attacks on ten synagogues. "We'll blow all those motherf—ers up at the same time," he says in the recording. "Imagine that, bro. Imagine what that would be like." In court today he was a bit more eloquent, admitting that he wanted to "create chaos" and "send a message of intimidation and coercion to the Jewish population of New York City, warning them to stop mistreating Muslims."
For Ferhani, the plea means he'll be sentenced to ten years in prison, rather than the 25 he was facing. The quick end to the case is also good for the Manhattan D.A.'s office, which was facing questions about how the case was investigated. The New York Times reports that while terrorism cases usually involve federal officials, the NYPD's intelligence division carried out the investigation and the Manhattan D.A.'s office prosecuted the case. It was revealed in pretrial hearings that the FBI had criticized the undercover officer's conduct in a different case, and the defense suggested that federal officials were avoiding the case. The defense also said Ferhani has mental health problems, and suggested that they'd pursue an entrapment defense.
"The people who commit these crimes are dangerous people to begin with — they're doing irrational things to begin with," Manhattan D.A. Cyrus Vance told the Post. "So to say that because they're acting irrationally that you shouldn't intercede is crazy. These are exactly the kind of guys who are engaging in this kind of conduct."
Ferhani's sentencing hearing is scheduled for January, and the judge said that after serving his time the 27-year-old Algerian native faces "inevitable" deportation. Mamdouh has pleaded not guilty.