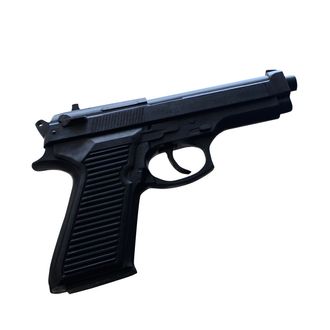 An individual was shot in the head and killed at West 58th Street and Broadway, south of Central Park, just before 2 p.m. on Monday, according to multiple reports. The suspect reportedly drove up in a car and fired on a man before fleeing the busy midtown scene near Columbus Circle. "I heard one really loud shot," a witness told the New York Times. "Nobody saw the guy who did it. He was like a ghost."
Update: Police say the victim was a 31-year-old black male and was approached from behind and shot once in the back of the head on a crowded street. According to the New York Post, "The suspect, described as a black male wearing a dark coat, dark hood and khaki pants, hopped into the passenger side of a light-colored Lincoln MKZ sedan and the driver proceeded southbound toward 7th Avenue, [NYPD spokesman Paul Browne] said." A silver semiautomatic pistol was discovered at the scene.
"I heard the shot, I looked and saw the guy fall down," a pedicab driver told the Times. "He was trying to say something, but blood kept coming out of his mouth. There was blood all over. Then he lost consciousness." The victim was declared dead at St. Luke's-Roosevelt Hospital Center.
According to NBC New York, "the entire shooting was caught on surveillance video."
Update II: "It definitely looks like a hit," a law-enforcement source told the Wall Street Journal. The murder is just the fourth this year in the Midtown North Precinct from 42nd Street to 59th Street, between the Hudson River and Lexington Avenue.