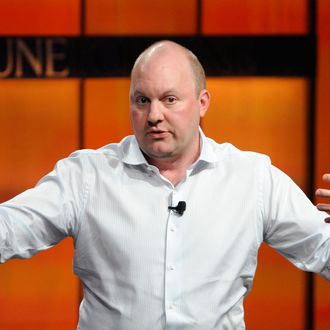 Andreessen
Photo: PHIL McCARTEN/Reuters/Corbis
It's tempting to read Marc Andreessen's public persona as a sort of shit-stirring performance art — the half-serious musings of a venture capitalist beta-testing his most outlandish ideas in public.
Andreessen, the co-founder of Netscape, board member of Facebook and HP, and current Most Powerful Man in Silicon Valley, has always been a provocateur. You could see some of that at work in his comments at the DealBook conference yesterday, when he bashed unions, joyfully proclaimed, "I love gridlock!" in response to a question about the fiscal cliff, and told a crowd assembled several feet from the New York Times newsroom that the Times should stop printing a paper version "as soon as possible."
But in an interview with Quartz today, it's clear that Andreessen is in fact pushing a libertarian agenda that includes some fairly extreme views about how society should function. And as Andreessen's influence outside Silicon Valley grows, it's worth taking a look at what exactly he thinks America should look like.
Several of Andreessen's ideas on Quartz's list can be chalked up to a VC talking his book. (It's not particularly novel, for example, to hear a tech guy say that we should have more immigration and fewer regulations — both of which help tech companies — or for an AirBnB investor to claim that the service is "gonna eat real estate.")
But Andreessen's second idea in the list — "The idea of the middle class itself is a myth" — is the kind of statement you don't often hear policy-makers or business elites on the East Coast making.
Andreessen, who has made hundreds of millions of dollars off the back of his tech investments, says that the phenomenon of "people with a high-school education earning college-level wages" was an "artifact" from the post-WWII era that has not translated well into the 21st century. To build today's economy, he says, we need to lower the minimum wage, discourage college students from majoring in English and other humanities (which he says will doom them "to a future of shoe sales"), and encourage them to pick science, technology, engineering, and mathematics instead.
That's not hard to argue with. After all, the logical outcome of Andreessen's vision would be a bifurcated society in which there are engineers who invent things and get very rich, factory workers who build those things and stay very poor, and creative liberal-arts majors who work in low-paying service jobs on the margin.
But the down-with-humanities trope is odd coming from Andreesseen, given that his entire career as a venture capitalist has been predicated upon standing apart from Silicon Valley's insular technocrats. A 2010 Businessweek feature on Andreessen described the way he patterned his venture capital firm after CAA, the giant Hollywood talent agency started by Michael Ovitz. Just as CAA wanted to be all things to all of its clients, Andreesseen wanted to make a16z "a full-service VC firm that helps with all the needs of startups, from recruiting to public relations." And for years, he's done that effectively, leading investments in a bunch of major Internet companies, including many that occupy the space between art and technology, like Rap Genius. He seemed to believe, as Steve Jobs did, that in order to have a successful tech company, just having good engineers wasn't enough. You needed thoughtful, intelligent creatives to merge technology with human needs.
It's not a coincidence that Andreessen's new vision would put tech entrepreneurs at the top of the totem pole. As Hamilton Nolan points out in his review of the DealBook conference, a lot of successful executives believe that the principles that enable success in their fields are automatically what's best for the rest of the country. Andreessen's comments suggest that West Coast elites have their own brand of myopia.