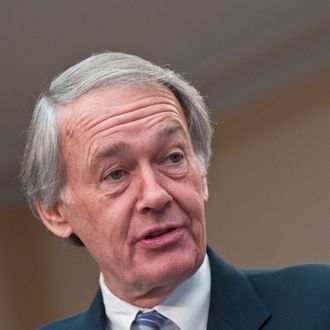 Ed Markey.
Photo: Kris Connor/2012 Getty Images
Now that the race for John Kerry's soon to be empty Senate seat has passed through the requisite Kennedy speculation phase, the first official candidate has come forward. The Boston Globe reports that U.S. Representative Ed Markey, dean of Massachusetts's Washington delegation, plans to run in the special election that will be held this summer. The move isn't much of a risk for Markey, who was elected to the House in 1976, since he wouldn't have to give up his current seat to run. While endorsing Markey on Thursday, Philip W. Johnston, a former chairman of the Massachusetts Democratic Party, said he hopes Democrats can "avoid an expensive, ­divisive primary," but that already seems unlikely. The state has plenty of other Democrats rumored to be considering a run, including Representatives Michael Capuano and Stephen Lynch, former Representative Martin Meehan, State Senator Benjamin Downing, and Attorney General Martha Coakley. 
The $3.1 million Markey already has in his campaign account might dissuade other Democrats from running, but it won't make a difference to presumed GOP nominee Scott Brown, who just lost his seat to Elizabeth Warren. Brown only has about $464,000 left in his campaign account, but he's one of Congress's most prolific fundraisers. Markey has started polling Massachusetts residents to test his strengths and weaknesses against Brown, and it seems like he'd face a tough race. Brown has now been through two difficult elections that attracted national attention, while Markey has never been in a statewide race. Plus, we doubt he can model a sweater quite like this.