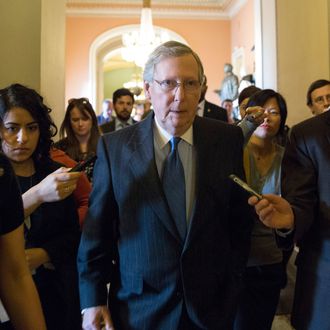 McConnell on Sunday afternoon.
Photo: Drew Angerer/2012 Getty Images
As Sunday's last-ditch fiscal cliff negotiations between Senate Majority Leader Harry Reid and Minority Leader Mitch McConnell seemed to break down, McConnell asked Joe Biden to swoop in to save the possibility of a deal. The talks stalled on Sunday afternoon over a provision known as the chained CPI, which would adjust the way inflation is calculated with regards to Social Security, resulting in lower payments to beneficiaries. Republicans were insisting on the inclusion of the measure, which is highly unpopular among Democrats who feel they've already ceded enough ground on other issues, including the possibilities of raising the threshold for new taxes to $400,000 and leaving estate taxes at their current levels. However, almost immediately after news of the impasse reached the outside world, Republicans senators emerged from a meeting to say that the chained CPI had been taken off the negotiating table.
Speaking on the Senate floor, Reid praised McConnell by saying that the Republican has been negotiating in "absolutely good faith." Reid also seemed to suggest the Democrats and the White House were now to blame for the stalemate, since they have failed to produce a response to the proposal McConnell sent to his office Saturday night. "I have had a number of conversations with the president, and at this stage we're not able to make a counter-offer," Reid explained.
This apparent "slow walking" on the part of the Democrats led McConnell (who, earlier in the day, criticized President Obama's "discordant remarks" on Meet the Press about the Republicans' reluctance to cooperate) to reach out to the previously uninvolved Biden for help on getting the other side to talk things through. "There's no single issue that remains an impossible sticking point," McConnell said on the Senate floor. "The sticking point appears to be the willingness and interest or frankly the courage to close the deal. I want everyone to know, I'm willing to get this done, but I need a dance partner."
Update: At around 6 p.m., Reid said, "There's still time left to reach an agreement, and we intend to continue negotiations." He added that the Senate would not be voting on anything on Sunday night, and that members will reconvene at 11 a.m. on Monday. He also described the earlier drama over the CPI as an act of "desperation" by Republicans. "We're still left with a proposal they've given us that protects the wealthy and not the middle class. I'm not going to agree to that."
Lawmakers offered conflicting takes on whether the most recent back-and-forth was "late-stage political theater" or evidence of a truly impossible situation. Republican senator Mike Johanns described Sunday as typical high-level posturing and said, "The two parties are so close that they can't afford to walk away." On the other hand, Joe Leiberman told reporters, "I think the parties are much farther apart than I hoped they'd be by now, and that the country thought they'd be when negotiations started on Friday." And Republican Lindsey Graham tweeted, "I'm incredibly disappointed we cannot seem to find common ground. I think we're going over the cliff."