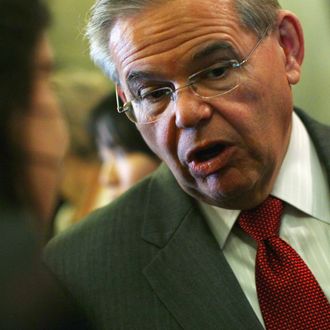 Robert Menendez.
Photo: Win McNamee/Getty Images
Time and again over the past few months, various officials and departments of the federal government have been accused by conservatives of inappropriately letting the election influence their duties. We had the "Susan Rice lied about Benghazi" affair, the cooked unemployment numbers uproar, the "hidden" Iranian drone attack kerfuffle — the list goes on. That none of these conspiracy theories ever panned out has given the right wing a serious case of conspiracy blue balls. Today, the AP may have finally provided them with some relief:
U.S. Sen. Robert Menendez employed as an unpaid intern in his Senate office an illegal immigrant who was a registered sex offender, now under arrest by immigration authorities, The Associated Press has learned …

Authorities in Hudson County notified ICE agents in early October that they suspected Sanchez was an illegal immigrant who was a registered sex offender and who may be eligible to be deported. ICE agents in New Jersey notified superiors at the Homeland Security Department because they considered it a potentially high profile arrest, and DHS instructed them not to arrest Sanchez until after the November election, one U.S. official told the AP. ICE officials complained that the delay was inappropriate, but DHS directed them several times not to act, the official said.
Was DHS's order to delay the arrest meant to protect a Democratic senator up for reelection (he won by 19 points)? Or would it have done the same thing had the senator been a Republican? There is some evidence for the latter: Days before the 2008 election, the DHS began requiring "high-level approval" before immigration officials could make arrests in "high profile" cases, according to a January 2009 AP report. Though it went unstated in the directive, one such high-profile case at the time involved President Obama's half-aunt.
So perhaps a sensitivity to politics is par for the course for the DHS. Even if that's the case, though, a fair question is: Should it be?
Update, 5:26 p.m.: The AP story now includes this denial: "A Homeland Security spokesman, Peter Boogaard, said Wednesday that it was 'categorically false' that the department delayed the arrest of Luis Abrahan Sanchez Zavaleta, 18, until after the election."