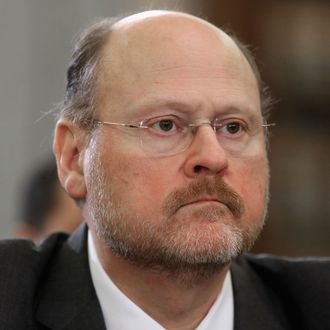 Joe Lhota 2013: He made the trains run on time, sometimes.
Photo: Chip Somodevilla/Getty Images2012 Getty Images
Less than five years ago, an unlimited monthly MetroCard would set you back just $76. Those halcyon days will seem like a lifetime ago when the MTA board votes on Wednesday on its latest fare-hike package. According to the various reports this morning, a monthly card will go from $104 to $112, a weekly from $29 to $30, and a single ride from $2.25 to $2.50. And if you don't like it, feel free to use the other New York subway system. Joking! You're screwed.
The fare hike, which will go into effect in March, reminds us of one of the reasons we are so dubious of the political prospects of MTA chairman and potential mayoral candidate Joe Lhota. Running a transit system that shuttles over 5 million people every day isn't easy, and the MTA, despite our constant gripes, is remarkably convenient and reliable for such a vast operation. But we humans have a thing in our brain called a negativity bias, which means that negative events affect us more than positive ones do.
We don't remember when our train comes as planned and takes us to work without incident, save for that mariachi band, which was delightful. We do remember when we're late for a meeting because our train didn't come for twenty minutes, or stopped inside the tunnel for seemingly no reason, and it was so full that we were unwittingly dry humping with five different people the entire time. We remember when repairs shut down our train for the weekend, or when we're trying to get home late at night. And a few months before the mayoral election, we'll definitely remember that our fares were just raised, again. If Joe Lhota does run for mayor, he may campaign as the man who makes the trains run on time, but voters might just see him as the guy who cost them another arm and leg at the MetroCard machine.