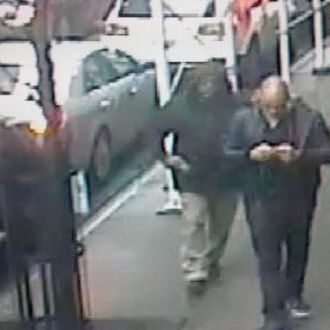 Police are still trying to figure out why a man walked up behind 31-year-old Brandon Woodard in broad daylight and killed him with a single bullet to the head on Monday. The best they have to go on right now is Woodard's past, including a pending cocaine charge with a forthcoming court date. "Because of his extensive criminal record, we're looking into the possibility it was drug-related," a law-enforcement source told the New York Post. "We're also looking into his ties to the entertainment industry. He ran a small promoting business, and the address comes back to his home. We're looking to see who his clients were." Cops are also investigating the gun and getaway car.
The killer can be seen on surveillance tape getting out of a silver Lincoln on 58th Street and flipping up his hoodie as he waited for his target. Woodard glanced over his shoulder, but appeared not to recognize the man behind him and went back to texting as the shooter pulled a silver 9mm from his pocket. Ballistic testing has tied the same gun to a 2009 shooting at a Queens home. "They never caught anyone involved with the shooting here," Yvette Brown, a resident of the house, told the Daily News. "There are still bullet holes in the house."
Woodard's killer then jumped back into the car, which had been rented by a couple, who are now being questioned, the Post reports. While investigators don't believe they were driving it at the time, they may have loaned it to some very untoward friends or associates.
The victim, in town on a visit from California, had returned to his Columbus Circle hotel after a meal, and may have been lured out again according to NYPD Commissioner Ray Kelly. "It's certainly a distinct possibility. We are looking into that," he said. "He ate breakfast at the counter but he was always looking over his shoulder," Woodard's cashier at breakfast told the Post. "He looked scared and afraid of something."
Update: Police are now focusing their investigation in Queens, where the getaway car has been located. "I don't want to say anything that undermines the investigation," said Kelly, choosing not to discuss the vehicle's ownership.
Woodard also reportedly watched the Detroit Lions play the Green Bay Packers on Sunday night at his hotel, along with a woman from Queens. "I know there is some girl involved," Woodard's cousin told the New York Times. "I thought he was being a playboy and going to have fun in New York with a girlfriend."
According to Kelly, there are "some theories" about motive, but no answers yet. "We don't know specifically why he was here."
Update II: The Post reports that the NYPD picked up a man for questioning in Rosedale, Queens, "one of several persons of interest that police want to speak with."