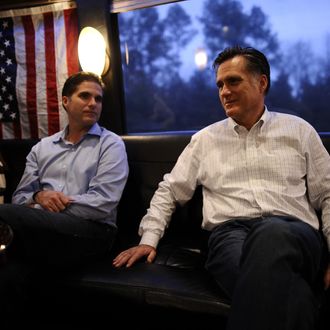 Tagg and his reluctant dad in the early days of the campaign.
Photo: EMMANUEL DUNAND/AFP/Getty
Mitt Romney's palpable discomfort during the 2012 election season has mostly been attributed to the fact that he is (very likely) a robot. However, in a lengthy Boston Globe piece about what went wrong with the campaign, Romney's eldest son Tagg offers a different explanation for his father's poor performance: "He wanted to be president less than anyone I've met in my life. He had no desire to … run. If he could have found someone else to take his place… he would have been ecstatic to step aside." The statement certainly seems to serve as a great "I told you so" moment for all those Republicans who endorsed genuinely fired-up people like Newt Gingrich and Rick Santorum during the primaries, though the story also suggests the Romney campaign's issues extended well beyond his supposed lack of enthusiasm for the task. 
The Globe's Michael Kranish (coauthor of The Real Romney) confirms that those closest to Romney, such as Tagg and wife Ann, clashed with his staff over strategy, especially when it came to humanizing the candidate. The story blames campaign manager Stuart Stevens for the unremitting focus on the dreary economy and the reluctance to share some of the more appealing elements of Romney's biography with the public. (When Tagg finally convinced RNC organizers to feature the grateful parents of a terminally 14-year-old Mormon boy Romney once comforted, they were put onstage before any of the big networks even tuned in.)
There are also criticisms of the campaign's infrastructure: The organization employed a mere 500 paid workers nationwide (less than the Obama team dedicated to Florida alone) and failed to make good use of social media and other technology. And, as Romney's digital director Zac Moffatt explained, they simply did not have as much time as Obama did to prepare. "Can we do 80 percent of what the Obama campaign is doing, in 20 percent of the time, at 10 percent of the cost?" Moffatt recalled worrying about early on.
Tagg also told the Globe that his father hopes to use what he learned during the campaign to help Republican leaders make changes to the way the party is run. "Having been through it, you know so much more than when you haven't," he said. Perhaps the first thing Romney should suggest for the next go-around is picking a nominee who actually wants to be there.