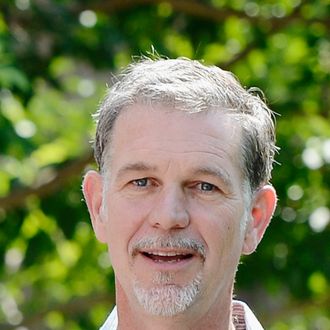 Photo: Kevork Djansezian/Getty Images
Reed Hastings, the CEO of Netflix, was just trying to share some good news last July, when he posted on his Facebook page that Netflix users had "exceeded 1 billion hours" of viewing time in the previous month.
Unfortunately, the Securities and Exchange Commission didn't see it the same way. The agency recently sent Hastings a Wells notice, warning him that he is being investigated for violating a securities law provision known as Regulation FD, which prohibits companies from selectively disclosing material information about their business to certain investors before others. Now, Hastings will have to get his high-powered lawyers to send a bunch of costly letters to the SEC to clear all of this up.
The SEC is arguing that by telling his 200,000+ Facebook followers about the number of hours Netflix users had watched instead of putting out a press release or filing an 8-K, Hastings was giving them forward-looking information that might affect the company's stock price without making it publicly available.
Hastings responded with a filing of his own, in which he argued that posting something for 200,000 Facebook users to see is not exactly the same thing as tipping off a handful of his closest friends, and that, because so much of Hastings's following is online, filing an 8-K may have actually resulted in fewer Netflix investors learning about the billion-hour figure. He writes:
First, we think posting to over 200,000 people is very public, especially because many of my subscribers are reporters and bloggers.

Second, while we think my public Facebook post is public, we don't currently use Facebook and other social media to get material information to investors; we usually get that information out in our extensive investor letters, press releases and SEC filings. We think the fact of 1 billion hours of viewing in June was not "material" to investors, and we had blogged a few weeks before that we were serving nearly 1 billion hours per month.

Finally, while our stock rose the day of my public post, the increase started well before my mid-morning post was out, likely driven by the positive Citigroup research report the evening before. 

We remain optimistic this can be cleared up quickly through the SEC's review process.
Hastings has a point. By going after him, the SEC isn't showing a ton of awareness about the way news distribution works in 2012. And it's hard to see this rising to the level of an actual civil lawsuit. Still, maybe next time, he should stick to posting on Google+, where nobody will see his material information anyway.