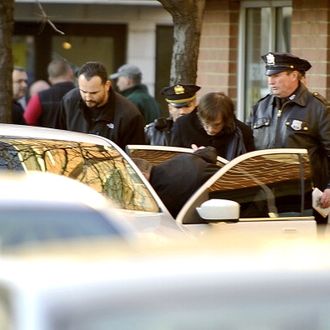 With the slew of early misinformation, the questionable interviews of children, and the general air of resentment from Newtown residents, the media have not made a great showing in covering the mass school shooting there. So it's especially unfortunate for one reporter at the New York Post who was apparently fooled by a Facebook page purporting to belong to the shooter's brother, Ryan Lanza. The publicly visible parts of the page make it look pretty questionable, but that didn't stop other news outlets from picking the story up and running with it.
The story by The Post's Candice Giove reports that "Ryan Lanza" said in a Facebook chat, "I am a victim" because "I loss [sic] my mom and brother." It's still up on the paper's website, but now it leads with this correction: "A spokesman for the Lanza family says an imposter is behind Ryan Lanza's Facebook page and that Ryan did not post the messages in this story." A link to the Facebook page in question follows.
The Washington Post elaborated on that denial, in which family spokesman Errol Cockfield called the story "a complete hoax," and the "unfortunate result of a poor editorial process." A New York Post spokeswoman had no comment for the Washington Post. We've reached out to Giove directly and will update if we hear back.
The Facebook page itself looks pretty suspicious: All eight of the eight pages it "likes" have to do with Newtown, and four of them, liked within minutes on the same day, call for Ryan Lanza's name to be cleared. There's no friends list visible, only two photos, and no activity prior to last Thursday. Of course that's just what we're seeing now. The Post's story makes reference to photos and comments not visible, which suggests they're either private or have been taken down since the original report.
The real Ryan Lanza's Facebook page became its own story when he was briefly named as the suspect on the day of the shooting (it turned out Adam was carrying his brother's ID). Lanza used his page to deny the reports, then deleted it. So yeah, it would be possible that he started a new one, but seeing as how he's a regular person with interests and friends and whatnot, and that he's already had to disentangle himself from media attention once, it's hard to believe his new page would focus exclusively on the tragedy and his unfortunate association with it.
Those apparent red flags didn't stop The Post from running the item, and they didn't stop others from picking it up. Yahoo News, The Telegraph, Gothamist, MSN, Huffington Post, The Australian, and others posted the news, then had to update their reports with word of the hoax. All in all, not the greatest day in history for digital news.