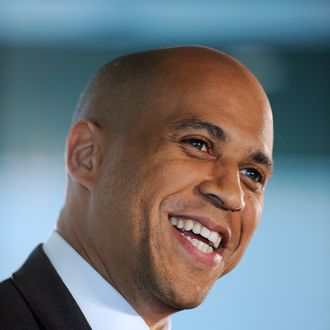 The New York Times is not so kind to ambitious Newark Mayor Cory Booker in a front-page story today examining the "promise vs. reality" of his time in office and the fact that much of it is spent on Twitter or out of the state. The article by Pulitzer Prize–winning national correspondent Kate Zernike begins by running down the well-documented (and pretty sweet) stunts that have made the everywhere-all-the-time mayor a media darling — the food stamp challenge, the snow shoveling — and then undermining them with harsh facts. "Last spring, Ellen DeGeneres presented Mr. Booker with a superhero costume after he rushed into a burning building to save a neighbor," for instance. "But Newark had eliminated three fire companies after the mayor's plan to plug a budget hole failed." Then it gets more brutal.
Booker is currently deciding if he should run against Chris Christie, and this article — which comes complete with a goofy photo of Booker, Blackberry in hand — is a pretty good preview of the attacks he'd face if he were to take on the very popular incumbent governor. Newark "remains an emblem of poverty," the Times reports, running down the rising taxes, crime, and unemployment rates. The governor's people are even allowed to flex a little muscle: "Mr. Christie's advisers are well aware of the charge that the mayor has not lived up to very high expectations, and so doubt that Mr. Booker will run." (Recent polls put Booker down 53 percent to 35 percent in a head-to-head matchup.)
Despite his wins for the city, like collecting $400 million in donations, it's with regard to Booker's self-promotion and fancy friends that the Times strikes hardest. Citing the Star-Ledger's report that the mayor "was out of town nearly a quarter of the time between January 2011 and June 2012," the story finishes with an epic burn:
He invited a reporter to see the system in action. He then called to apologize that he could not be there: "I'm in and out of New York all day."

Instead, his staff demonstrated the system. Mr. Booker was on his way to host a reading at a bookstore on the Upper West Side, filmed by CNN. He then spoke at a benefit at Cipriani and attended a movie premiere at Google's New York headquarters. Afterward, he announced on Twitter, "I sat on a panel with Richard Branson."
"In a difficult media day here is a hard-nosed, tough but fair look at my administration," Booker said today (on Twitter, of course), linking not to the Times article but a piece from The New Republic exploring the same issues. Acutely aware of his public profile, it will be fascinating to see if the @-reply mayor will adjust his behavior accordingly. More likely is that Christie gave a lot of high-fives today.