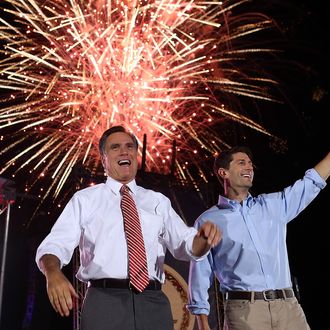 Reporters didn't look away during the fireworks show, so that will be another $1,000.
Photo: Justin Sullivan/2012 Getty Images
For a man who highlighted his superior business skills as one of the reasons he should be president, it appears that Mitt Romney wasn't very good at managing his campaign's finances. Since Election Day, the Romney camp has been sending news outlets bills for food and transportation charges their reporters racked up while traveling with the candidate. This is customary in a presidential campaign, but charging each reporter hundreds of dollars for a single meal is not. On Monday BuzzFeed published a letter it sent to the Romney campaign along with the New York Times, The Wall Street Journal, the Washington Post, USA Today, Financial Times, Agence France-Press, and Yahoo, in which the news organizations inform former Romney staffers that they're contesting the "exorbitant charges for food, filing centers/holds and ground transportation." For example, the organizations were charged "$745 per person charged for a vice presidential debate viewing party on Oct. 11; $812 charged for a meal and a hold on Oct. 18; $461 for a meal and hold the next day; $345 for food and hold Oct. 30." And to make matters worse, they claim Romney staffers ate the food too, which is the campaign equivalent of snatching yogurts marked "For Reporters Only!" from the fridge in the break room.
The letter continues:
Also, it was clear to all present that the campaign's paid staff frequently consumed the food and drinks ostensibly produced for the media. Were any of the costs of these events charged to the campaign itself, to cover the care and feeding of its staff? We would like to see how exactly the costs were determined for any specific event above $200, including the amounts you were charged and to whom you in turn assessed charges.
The Romney campaign has yet to respond to the charges, but an anonymous campaign aide told BuzzFeed that the bills weren't inflated; the entire enterprise was just mismanaged. In light of reports that the Romney campaign was inadvertently paying thousands more than the Obama team for the same ad time, reporters probably should have been a bit suspicious — particularly when their vice-presidential debate viewing party included booze, massage tables, and fresh cut flowers.