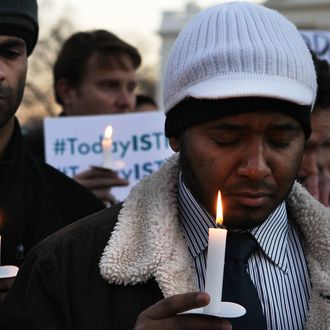 Activists at a candlelight vigil outside the White House on Friday night.
Photo: Alex Wong/Getty Images2012 Getty Images
With yesterday's almost-teary White House address, President Obama voiced a sentiment shared by many Americans about shooting at Sandy Hook Elementary School in Newtown, Connecticut: "We've endured too many of these tragedies in the past few years … And we're going to have to come together and take meaningful action to prevent more tragedies like this, regardless of the politics." At no point did he use the phrase "gun control." White House Press Secretary Jay Carney told reporters that the topic will get "a day for discussion of the usual Washington policy debates, but I do not think today is that day." Others don't think we should wait. Mayor Michael Bloomberg was especially critical of Obama's failure to take a stand. In a statement issued through Mayors Against Illegal Guns, he said, "The country needs [President Obama] to send a bill to Congress to fix this problem. Calling for 'meaningful action' is not enough." And while the last few years' of high profile shootings have failed to bring about changes on gun control — a once-hot issue that has lost traction among politicians and the media in recent decades — some lawmakers and activists are pledging to use the Newtown massacre as a mandate to finally force a substantive conversation.  
New York Governor Andrew Cuomo one-upped Obama's comments, saying, "Let this terrible tragedy finally be the wake-up call for aggressive action and I pledge my full support in that effort." Over in D.C., others have come out in favor of action on gun control, including Maryland Representative  Chris Van Hollen and New York Representative Nita Lowey, though few offered any specific measures. (It's important to note that all these people are Democrats.) Massachusetts Representative Ed Markey spoke to Politico, despairing that, "Thirty-four people are killed with guns every day in America. It's past time for a national debate on gun control." Others, like New Jersey Representative Bill Palone mentioned the need for "improvements to our mental health care system … to identify and treat these dangerous mental illnesses" in addition to gun restrictions. Meanwhile, New York Representative Jerry Nadler joined the chorus of Obama scolds:
Yet another unstable person has gotten access to firearms and committed an unspeakable crime against innocent children. We cannot simply accept this as a routine product of modern American life. If now is not the time to have a serious discussion about gun control and the epidemic of gun violence plaguing our society, I am challenging President Obama, the Congress and the American public to act on our outrage and, finally, do something about this.
There are, however, a handful of congressional members ready to move past mere debate and on to real action. New York Representative Carolyn McCarthy, who, along with New Jersey Senator Frank Lautenberg, proposed gun control regulations after the shooting in Aurora, Colorado this summer, recounted to Politico a conversation she had in the lead-up to Election Day with White House Chief of Staff Jack Lew:
I said, 'Jack, I know the president is going through an election and I'm telling you after the election I'm coming out full force. I was just giving the White House a heads up that the gloves are off on my side and I was going to do everything I possibly could. … If that meant embarrassing everybody, that's what I would do.
While this increased focus on the issue may push Obama toward that "meaningful action," McCarthy and her gun control allies have to contend with Harry Reid. When asked by Fox News whether gun control legislation might appear on the docket in 2013, the Senate Majority Leader explained that the schedule was already full up.
Of course, most prominent conservatives don't think access to guns is what needs debating. Fox News host and former presidential candidate Mike Huckabee argued on Friday that, "We ask why there is violence in our schools, but we have systematically removed God from our schools. Should we be so surprised that schools would become a place of carnage?" The American Family Association's Bill Fischer — never the voice of reason — agreed with Huckabee 100 percent: "We've kicked God out of our public school system. And I think God would say to us, 'Hey, I'll be glad to protect your children, but you've got to invite me back into your world first. I'm not going to go where I'm not wanted. I am a gentlemen.'"
Those in the gun lobby, like Larry Pratt, the executive director of Gun Owners of America, meanwhile remain convinced that more guns are the solution. In a hard-to-believe statement he said:
Gun control supporters have the blood of little children on their hands. Federal and state laws combined to insure that no teacher, no administrator, no adult had a gun at the Newtown school where the children were murdered. This tragedy underscores the urgency of getting rid of gun bans in school zones. The only thing accomplished by gun free zones is to insure that mass murderers can slay more before they are finally confronted by someone with a gun.
Any kind of reform is at least partially dependent on public opinion — something gun control advocates don't totally have on their side at the moment. (In fact, on Thursday, Michigan passed a law allowing concealed weapons in schools.) A revealing chart published by The Atlantic yesterday shows support for gun control actually dipping after the 2007 Virginia Tech shooting, which left 33 dead. A majority of Americans are, however, in favor of certain restrictions, such as banning automatic rifles, which Obama did mention briefly in his remarks. (The move has Fox News owner Rupert Murdoch's Twitter blessing.) The question is whether the sheer horror of what happened at Newtown will act as a tipping point. As ABC's J. Byron Wolf put it, "Already there is something that seems to set this particular tragedy – the second gun rampage in a week — apart from some of the other recent tragedies. Dead young children."