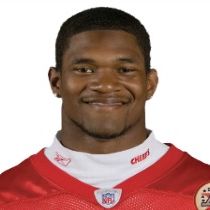 Early this morning, Jovan Belcher, a 25-year-old Kansas City Chiefs linebacker, murdered his girlfriend before fatally shooting himself in front of his coaches. The details are still not entirely clear, but reports say that Belcher shot and killed 22-year-old Kasandra Perkins at their home after the two got into an argument; Perkins's mother, who was visiting the couple and their 3-month-old daughter, apparently witnessed the scene. Belcher then drove to a team practice facility Arrowhead Stadium and parked his car "oddly," attracting the attention of security.
When Belcher arrived there he encountered General Manager Scott Pioli, Coach Romeo Crennel and other team personnel. Police said Chiefs staff attempted to keep Belcher from committing additional acts of violence.

"He had a conversation with Scott Pioli," [Police Captain] Lindaman said. "There was no threat and it was quite friendly, from what I understand. The Chiefs organization had been very supportive of him and he was expressing that."
Police officers called to the stadium report seeing Belcher walk away from the Chiefs staff members and, a few seconds later, he turned the gun on himself. The team released a statement confirming the incident, calling it "an unthinkable tragedy." Belcher, at native of Long Island, had been playing for Kansas City for four seasons, having joined the team as a free agent out of college.