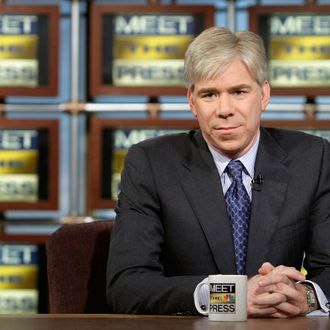 Photo: Alex Wong/Getty Images
During his Sunday interview with NRA CEO Wayne LaPierre, Meet the Press host David Gregory displayed a high-capacity ammunition magazine, which, as it turns out, violates D.C.'s existing gun laws. On Wednesday, the Metropolitan Police Department confirmed that they were looking into the matter. It now seems that, prior to the episode's taping, a representative from the Federal Bureau of Alcohol, Tobacco, Firearms, and Explosives incorrectly told NBC that using the magazine was legal as long as it was empty, though it's not clear whether that information will affect the investigation. Either way, Gregory's apparent attempt to make a point about the need for stricter weapons control does appear to have backfired (like rifles do, sometimes).  
While most pundits have dismissed the whole thing as a mere "nonstory" and a waste of police resources, NRA president David Keene told CNN on Thursday that he sees the incident as illustrative of the "craziness" of some gun laws:
"There are two lessons for [Gregory] there. One, don't ask the government what's legal and what isn't legal because half the people you ask don't know. And secondly, that's a silly felony. It's a felony in Washington, D.C., to own that magazine or to be caught with a cartridge. So I really think what David Gregory did, while he was inadvertently flouting the law, was illustrated in a very graphic way, perhaps not intentionally, but in a graphic way just how silly some of these laws are."
Gregory is currently on vacation and won't be back to host Meet the Press until January 5, so he has plenty of time to think up a response to that one.