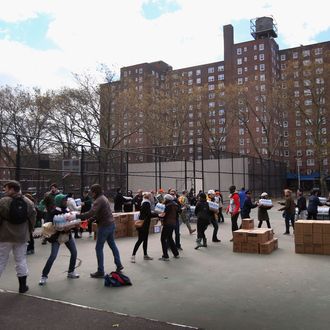 Photo: John Moore/2012 Getty Images
A front-page investigation by the New York Times into the government handling of Hurricane Sandy confirms what many people already know: The city wasn't ready to help the thousands left behind in public housing. According to the paper of record, "while the agency moved aggressively before the storm to encourage residents to leave, particularly those who were disabled and the needy, both it and the city government at large were woefully unprepared to help its residents deal with Hurricane Sandy's lingering aftermath." But some in government insist on placing blame on those who didn't leave.
"We called for mandatory evacuation," said deputy mayor Howard Wolfson. "We did not do that assuming that the flood would reach someone on the 10th floor of a building — we did that because of some concern that there could well be outages of power, heat and water. Our hope, expectation and goal is people would leave these buildings." Still, the Times reports, the city was well aware that only 6,800 people were in shelters across the city, despite about 375,000 living in mandatory evacuation zones, with some 45,000 of those living in public housing.
Once evacuation was no longer an option — if it ever was for the elderly and disabled — the response "felt improvised," according to the Times. "We need a longer-term plan," said Linda Gibbs, a deputy mayor working with health and human services. "The city emergency evacuation plan works great for huge numbers. But it does not look much past three or four days."
"By tonight or tomorrow, every one of their buildings will have electricity and by early next week they will all have heat," said Mayor Bloomberg on November 9 of the NYCHA. "So that's a group that we did have to worry about but now do not have to worry about." In reality, not all buildings had heat and hot water until November 18.
Groups like Occupy Sandy and People's Relief in Coney Island "appeared to be better organized than the city," and the city seemed to know it:
Some volunteers felt the roles should have been reversed, with the city leading them. But Nazli Parvizi, the city's commissioner for community affairs and the mayor's point person in Brooklyn, said she felt effective in a supporting role. The volunteers were doing a good job, she said, and "" wasn't here to change that narrative. I was asking them, 'What do you need?'"
But at least a bunch of dead bodies didn't turn up in public housing after the storm, said Parvizi. "I thought all 50 of the ambulances we had would get filled at every building," she said of the sweeps, days later, in Coney Island. "It wasn't as drastic as that. There were only a handful in each, and there were no D.O.A.'s, though that's not to say people weren't suffering."
"If you make a list of 1,000 things we did — we did not do a thousand perfect," admitted Robert Steel, the deputy mayor in charge of the housing authority. "Should we try to learn from this? Sure."