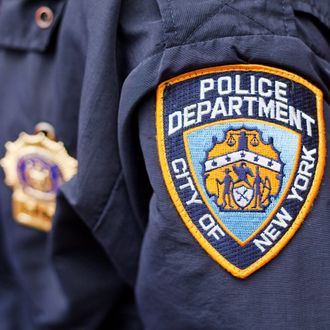 Two plainclothes NYPD detectives shot and killed a man in Ridgewood, Queens on Saturday night because they believed he was pointing a semiautomatic pistol at them. According to the New York Times, the officers were handcuffing Nolan Rivera, a suspect in a narcotics bust, when he yelled, "They're cops, you idiot." Police say they turned and saw a man with a gun coming toward them, and opened fire. They hit the man three times in the torso and leg, with one detective firing five times and the other firing once. While the man's gun looked like a Glock 19 pistol, it was actually a Walther CP99 pellet gun.
Police have not released the name of the man, who died at the hospital, but they say he was 42 and had been arrested 39 times for assault, drugs, weapons possession, and armed robbery. Rivera says he "appeared out of nowhere" and witnesses say they saw him get out of what may have been a livery cab just seconds before the shooting. It's believed that he thought the officers were holding up Rivera, and planned to rob all three men. "It appears to be a crime of opportunity for the man with the imitation gun … but it's still under investigation," a police source told the Daily News. The NYPD says the shooting was justified because the detectives believed the man posed an imminent danger.
This latest incident caps off a year with a dramatic increase in the number of shootings involving the NYPD. According to Reuters, so far there have been eighteen shootings in which an assailant shot back at a cop, up from nine last year. In 2012 a dozen NYPD officers have been shot, while only nine were shot over the past three years.