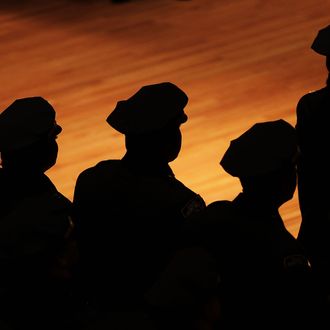 Photo: Spencer Platt/Getty Images2012 Getty Images
The city has quietly made it more difficult to find out how much it's paying to settle federal lawsuits, the New York Times reports today, with the dollar amount no longer included in public court filings against government agencies including the NYPD. The Law Department has opted not to list the price tag, as it used to, but will give up the information after a phone call to the department or the filing of a Freedom of Information request, or if you do a funny little dance while Hula-Hooping barefoot.
"It is every New Yorker's right to know how their tax dollars are being spent," said attorney David Rankin. "And it is particularly important to know how that money is being spent when it is being used to compensate the victims of misconduct by our Police Department." Legendary media attorney Floyd Abrams concurred: "To the extent that this is a deliberate change of policy, it is inconsistent with a significant public interest and First Amendment value of the public having information about the behavior of its government," he said.
Throughout the 2012 fiscal year, the city paid out $583 million, down from $664 million the year prior. To find out where all that money is going from now on will take some extra digging.