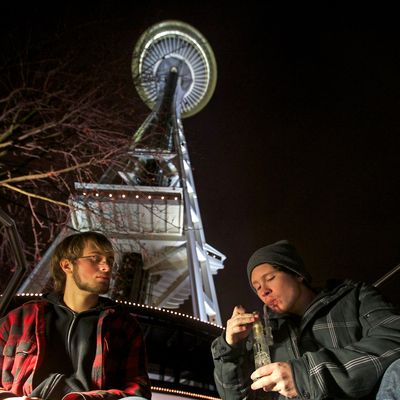 Welcome to Washington.
Photo: Stephen Brashear/Getty Images
The War on Drugs may be lost, but it's not quite over. The Obama administration is reportedly stroking its chin with concern at voter-backed initiatives in Colorado and Washington that legalized marijuana for recreational use in the face of federal law. While Washington officially became a pothead paradise yesterday, Colorado is set to join the party next month, and the Justice Department, according to the New York Times, is considering a legal-action buzzkill.
The government has options, but the president risks alienating his supporters, many of whom are drug-loving heathens. "It's a sticky wicket for Obama," said political scientist Bruce Buchanan, who called potential action from the administration against legalization "a slap in the face to his base right after they've just handed him a chance to realize his presidential dreams."
The Times notes that "no decision was imminent," while laying out a few possibilities anyway, including the Justice Department suing the states to prevent them from regulating and taxing marijuana or denying federal grants until state lawmakers bring back anti-drug laws. If Obama is interested in really bad PR, the administration could go after individuals:
One option is for federal prosecutors to bring some cases against low-level marijuana users of the sort they until now have rarely bothered with, waiting for a defendant to make a motion to dismiss the case because the drug is now legal in that state. The department could then obtain a court ruling that federal law trumps the state one.
It's true that the Justice Department has not thought twice about raiding dispensaries in states where medical marijuana is legal (be easy, New Jersey), but the official administration line is that resources should not be used to target your local James Franco.
"In enacting the Controlled Substances Act, Congress determined that marijuana is a Schedule I controlled substance," U.S. Attorney Jenny Durkan reminded everyone in Washington yesterday as they used bongs in public. "Regardless of any changes in state law, including the change that will go into effect on December 6 in Washington State, growing, selling or possessing any amount of marijuana remains illegal under federal law." Afterwards, she probably didn't wink and light up, but she could have, for now.