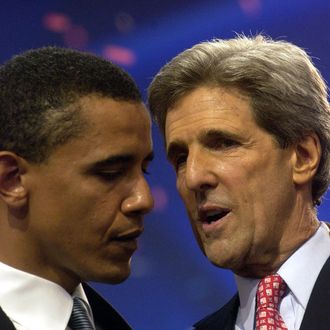 "Can you make me your secretary of State in eight years?" — John Kerry in 2004.
Photo: Darren McCollester/Getty Images
John Kerry is believed to have long coveted the job of secretary of State. He lost the gig to Hillary Clinton when President Obama first entered the White House, because PUMAs. But now that Clinton is stepping down to spend some time "traveling" and "resting" and other fake things she won't be doing, and with Susan Rice also out of the way, the position is finally Kerry's. Obama is expected to make the official announcement later today. And unlike Rice, or Chuck Hagel, Kerry will have absolutely no problem getting confirmed by the Senate … we think.